Start with a piece of cardboard – this one is from a cereal box, cut into quarters. Then a layer of gesso is added and allowed to dry.

Add the first colour. The intention here was to have the colour radiating out and fading around the circle. The gesso underneath allows the paint to be thinned out and removed, using a dabbing motion with a cloth.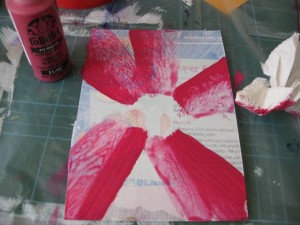 Then the second colour was added.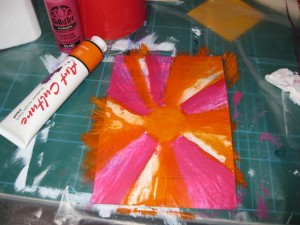 As this colour combination was a little bright, gesso was then added to tone it down and tie the pattern together. Again this layer was blotted to remove some of the gesso to make it thinner in the centre.
To complete the background, some stamping was added.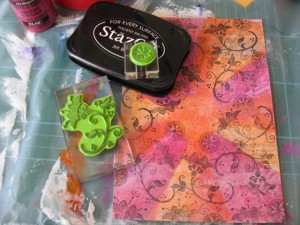 Then your background is ready to add images, text and embellishments.
All of these pieces were stuck on with double sided tape. Images from Go Make Something.
Happy Creating!