~ * ~
This article is written by Jean Mullins (Stevenson)
Supplies Required
Small canvas
Pencil
Fine liner permanent marking pen, Small paint brushes
Paints, can be whatever you wish. I used acrylics and
inktense sticks
Spray sealer or hair spray
If you make a mistake, wet a cotton bud with windex and rub gently.
I love doing pen and wash designs, I started out many years ago, painting pen and wash designs on china that were then fired in a kiln between each wash of paint  lots and lots of hours work.  Since then I have created paintings pen and wash style using both oils and acrylics. (separately, as we all know oil paint cannot be used over acrylics.) The technique remains the same, draw or pencil design, go over with a permanent fine line pen, spray seal the design, then add subsequent washes of paint.
Don't gesso the canvas or you will find the paint will clog your pen, as well as change the ink colour slightly.
Draw your design on the canvas using a pencil very lightly.
If you aren't a confident drawer you can always trace a design.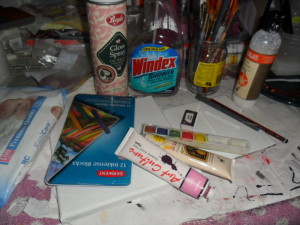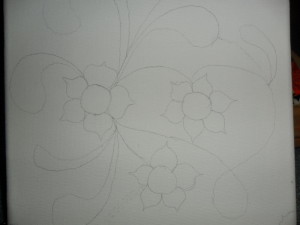 Using the permanent pen draw over your design, alter the pressure for thicker, thinner or lighter, darker areas. If you rest your hand on a tissue this will save ink marks being transferred where you don't want them onto the canvas.
Tip: Pen all the main design lines in first and let it dry before you fill in the tangle patterns.
When you are happy with your canvas, Let it dry for a couple of hours or overnight if possible then spray thoroughly with hair spray or a sealer. Give it 3 coats drying between each one. Drying time will depend on the weather but generally it dries quickly. Suggest you do this outside as sealer is pretty smelly.
For the painting, use liner brushes or small rounds for applying the paint, the ribbon areas are best painted with a small angle shader.
Definition of a "wash"is a very pale watery mix of paint, to achieve this, rather than using too much water I used a "flow medium" which I loaded onto my brush before loading with paint. Too much water changes the paints "sticking" formula.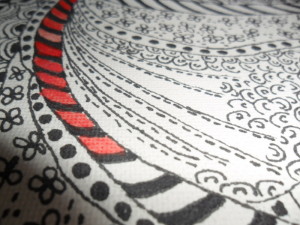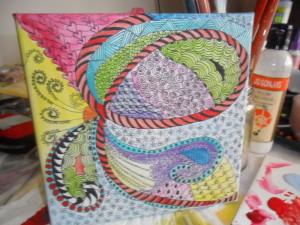 The idea is "no stressing, just have fun and create a pretty painting".
Zentangles (trademark Zentanglesinc.) or tangles is all about meditation or attaining a meditative state of mind while "tangling or doodling". I facilitate a meditation group for U3A where I am a volunteer tutor. Any form of meditation is a wonderful stress reliever.
What happened with my little painting of Athena. Looking closely at the pictures, particularly Athenas hair, you can see that the pen has bled when I used the sealer spray. This is interesting as the same spray, same pen but maybe not the same brand canvas was used. If you want to test your canvas, pen something, your name, title of your painting, anything on the back of the canvas where it's secured to the frame, then spray with your sealer. See what happens
~*~*~*~*~*~*~*~*~*~*~*~*~*~*~*~*~*~*~*~*~*~*~*~*~
Author bio:
Jean Mullins lives in Caboolture, Queensland close to beautiful Bribie Island. Not only a mixed media artist, Jean is also a craft teacher, teaching many different mediums, including book making, crochet, patchwork and quilting, ceramics, porcelain doll making, sculpting in clay and mold making. Pattern designer and author of the books, "Dolls Clothes in crochet".With a lot of knowledge gathered over the years she considers it a pleasure and privilege to share. Being a member of the Caboolture Artisans Guild, Bribie island Community Arts Centre as well as a tutor for U3A and a pet rescue foster "mum" life is busy and fun.
~*~*~*~*~*~*~*~*~*~*~*~*~*~*~*~*~*~*~*~*~*~*~*~*~
More about Jean can be found at:
www.jeaniesartyplace.blogspot.com and www.nannasworkroom-stitcheriesandsuch.blogspot.com
.

.