~*~*~*~*~*~*~
I am having a bit of a vintage ephemera fetish at the moment and thought I'd share what I have collected and learn so far.
Vintage ephemera consists of "vintage" being anything old. Often this will be from the turn of the century to about the 1950's. The 1960's to 1980's seem to fit more into the retro category, but this era may also be covered when searching for such things. "Ephemera" refers to things that are fleeting or short-lived, which may seem like a contradiction, but in my search, it usually refers to paper and cardboard type products; old pages of text, receipts, sheet music, postcards, greeting cards, posters, cigar cards, swap cards and playing cards all may feature is the collection. Old books often feature in this product grouping as well.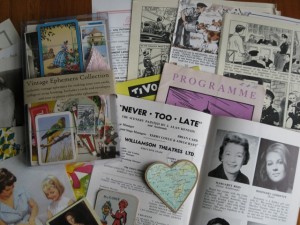 Finding vintage ephemera from the source is the best place; collections from old relatives are the best find as they also have a personal connection. Some second hand shops, flea markets or church fates are good places to go looking for them. If this isn;' your style (these places can be very dusty and not always the best odds of finding soothing worth while and at decent price) there are places now that have done the hard work for you and have compiled vintage ephemera kits (see L'Uccellos and Meet Me at Mikes ~ both in Melbourne, Australia)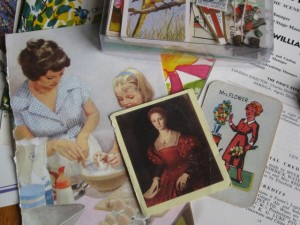 To use original or copies?
This debate continues to rage across the mixed media art world. Some artists love using originals to add authenticity to their work, using rich papers, tinged with age and passed down. Others will scan the originals which preserves the original and allows for multiple reprints and re-sizing.  Books in particular are most argued about.
I personally will decide on a case by case basis; if it is something that I have multiples of, or doesn't have a significant emotional attachment, I will often use originals. If the piece has intrinsic or emotional (family) value, the scanning to print copies is preferred.
*~*~*~*~*~*~*~*~*~*~*~*~*~*~*~*~*~*~*~*~*~*~*~*~*~*~
I would love to hear about your favourite place to find ephemera ~ leave a comment telling us about your best find!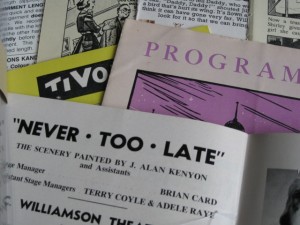 *~*~*~*~*~*~*~*~*~*~*~*~*~*~*~*~*~*~*~*~*~*~*~*~*~
If you would like to read more…

Now there's a hip way for crafters to bring family history into their daily lives. Collage Lost and Found combines basic collage techniques and found objects to create edgy and unusual crafts with not only style, but a story to tell, as well. Highlights include:
-20 step-by-step projects with easy, fashionable designs for greeting cards, magnets, necklaces, journals, and more
-Sassy, and alluring artwork that reflects the author's old-world Sicilian upbringing and her fascination with a bygone era
-Inspirational photo galleries packed with ideas, as well as information on basic collage, collecting ephemera, and jewelry techniques
Readers won't be able to resist these clever ideas for turning long-forgotten treasures into items they can wear, display, or send!

Vintage Collage Journals is the sequel to artist Maryjo Koch's Vintage Collage-Works, her first book illustrating her unique style of collage art with antique ephemera. In her new book, Koch has compiled an inspiring portfolio of her many themed journals combining collage techniques with watercolor painting and other artist's techniques. She explores the collage medium in travel journals, recipe keepsake books, and nature and garden sketchbooks. As an avid collector of antique paper ephemera, Koch utilizes the things she collects in inventive ways to add personal touches to her journals, mingling them with photos, sketches, and paintings of the many themes she explores. Along the way, she also shows how the act of making a journal can be a valuable way to explore an experience or subject in greater depth.
.
.