It's no secret that at Mixed Media Arts we support everyone who has an inner need to create. We want to use materials that we have at hand, around the home as much as possible, or are fairly cheap and easy to buy, as compared to corporate lines of specialty papers and embellishments where you need to buy something from the entire range as the colours don't match with anything else. It can be very frustrating.
This article highlights some further uses of the humble cereal box.
Part 4 – Plastic Sheeting
Cereal boxes were mentioned in an earlier article to use as a source of cardboard. It also provides us with the inner bag or lining, that can be carefully opened along the seams to create a fantastic protective sheet that can be laid out on your table to protect the surface when painting. Or it can be cut into smaller pieces to use as layering between pieces to stop the glue from transferring when weighed down to flatten out, if they have buckled when gluing.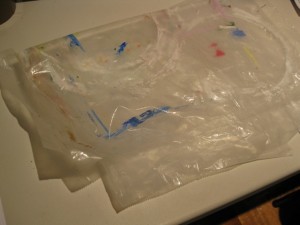 Here you can see a few I have already used. I have a store of them on stand-by that I have collected as the cereal is finished. I open the bag carefully along the seams and rinse them under the kitchen tap and allow them to dry. Then I fold them into a manageable size and store them under my craft table.
Another use for this plastic is to create smaller board covered with cereal box lining. This can be used if you have inked up a smaller piece, or have glued a few pieces that you want to set aside to dry. The plastic won't stick to your work and it is easy to move out of your way, from your main work area. Use a few while juggling your work space.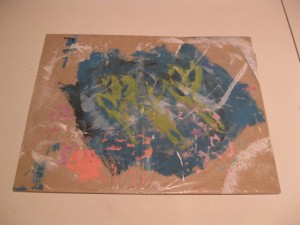 Note: don't apply heat to this plastic without good ventilation. If you need to use a heat gun to speed up the drying process, remove it from the backing board first.
Any plastic sheet can be used in the same way – I like to reuse the cereal box lining instead of throwing it away. It also comes in useful with altered books. A sheet can easily be wrapped around the other pages of the book so that paint doesn't transferred to a layout already complete or yet to be started.
As you can see, creating Mixed Media Art allows us to see everything in a new light and always wondering what else we can do with the things around us.
Happy Creating!
.

~*~*~*~*~*~*~*~*~*~*~*~*~*~*~*~*~*~*~*~*~*~*~*~*~*~*~*~*~*~
Here are other materials that I like:
My Favourite Materials – Part 1 Cardboard
My Favourite Materials – Part 2 Text Ephemera
My Favourite Materials – Part 3 Painting Tools
My Favourite Materials – Part 5 Embellishments
See what others have done with their recycling and art…

.

.

.