It's no secret that at MMA we support everyone that has an inner need to create, using materials that we have at hand, around the home as much as possible, or are fairly cheap and easy to buy, as compared to corporate lines of specialty papers and embellishments where you need to buy something from the entire range as the colours don't match with anything else. It is very frustrating.
This short series of articles will highlight some of my favourite materials.

Part 2 – Text Ephemera
My favourite method of creating visually textured backgrounds is to use various text pages that come from old books, magazines, conference proceedings, knitting patterns, dressmaking patterns. While this doesn't seem like likely mixed media arts material, once you start really looking at them, you will see a huge variety of different paper textures, fonts, type sizes.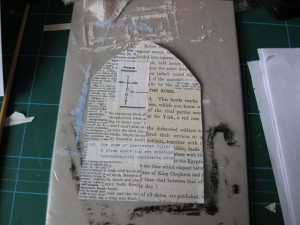 Together they do create a form of art in themselves. All of these put together make a great background, as your eyes search out meaning in the words and letters. You may even find sketches or diagrams in these materials that also add to the background layering. Start with cheap materials and never use a book of value.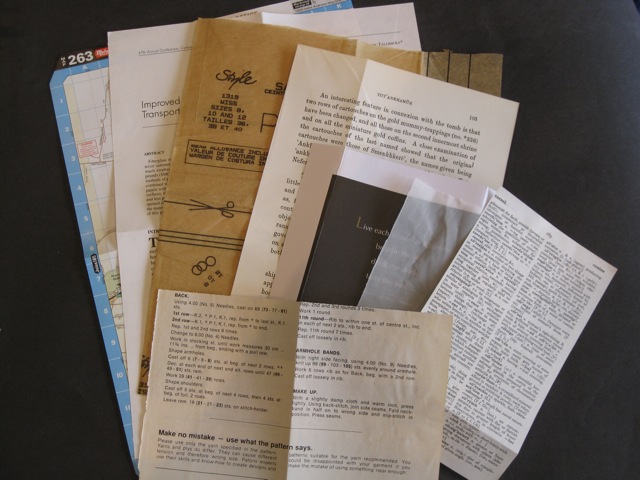 Using old books creates many many pages. The covers can then be used as substrates for future projects, or even as covers for altered books.
Also use as papermache to hold the box or shrine together, providing strength and interest at the same time. Also use the words to add meaning, inference and a story to our mixed media work.
I hope this has given you some ideas.
Happy Creating!
Here are other materials that I like:
My Favourite Materials – Part 1 Cardboard
My Favourite Materials – Part 3 Painting Tools
My Favourite Mixed-Media Materials – Part 4 Plastic Sheeting
My Favourite Materials – Part 5 Embellishments
.

.
.