It's no secret that at MMA we support everyone that has an inner need to create, using materials that we have at hand, around the home as much as possible, or are fairly cheap and easy to buy, as compared to corporate lines of specialty papers and embellishments where you need to buy something from the entire range as the colours don't match with anything else. It is very frustrating.
This short series of articles will highlight some of my favourite materials.
Part 1 ~ Cardboard
At the moment, my favourite material is cereal box cardboard. I keep every one we use (open the ends so that they will store flat) and have built up a collect them over the last year. They are great to have on hand when the kids need cardboard for their latest project and also when you feel the need to create.
Some of the things I have made recently are:
+ An "all about me" book – cutting the larger boxes into four panels and using an office hole punch to add two holes. This will allow two ring binder things to hold it together.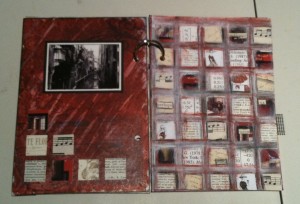 I started this book so that I could make something just form me, using those special items I had found or tucked away. Using the rings as binding allows me to add pages as I feel like it, or rearrange them if needed. It is easy to add more pages, just get another box, cut it up and I'm ready to go. I also use left over gesso or paint, to create rough backgrounds.
+ Made this cute little gift box from chipboard, but it would have worked with cereal box cardboard, as well.
+ This sticky note book covers, made by gluing two layers to create a firm base. I am delighted with how well this has turned out. You can't tell it is made from cereal box cardboard with two pieces glued together; it makes a very strong cover.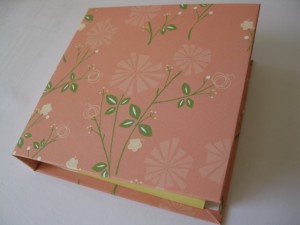 I hope this has given you some ideas of what you can do once you have a cereal box cardboard collection at your fingertips.
Happy creating!
Here are other materials that I like:
My Favourite Materials – Part 2 Text Ephemera
My Favourite Materials – Part 3 Painting Tools
My Favourite Mixed-Media Materials – Part 4 Plastic Sheeting
My Favourite Materials – Part 5 Embellishments
.

.
.