As we get further into Mixed Media Arts we find it harder to throw things away, starting to see the potential in everyday objects, beautiful papers, shiny embellishments and other things. So we need to think about how to store them so they are easy to find when we need them and stored safely so they don't get ruined.
Part 2 – Small pieces of paper
If the paper is smaller than a quarter of a sheet (if it started as A4, then smaller than A6) I store these separately from the 12″x12″ and A4 papers [See Good Papers Storage]. As I began to collect more offcuts that were just too nice to throw away, I started a series of small boxes about shoe box size. These were divided into four colour families:
– cool colours; blues / greens / purples
– warm colours; pink / orange / red / maroon / yellow
– natural colours; browns / cream / naturals
– shades; black / white / metallics / grey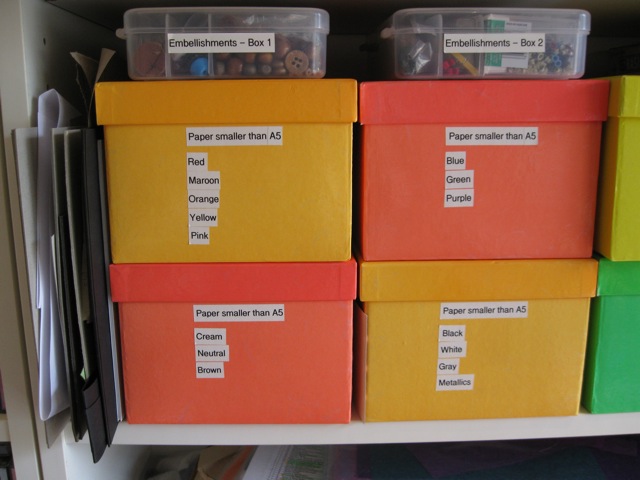 Sometimes these colour separations don't quite work but most of the time I find it easy to pull out a box if I am looking for a particular colour. I can easily pull a few pieces out, find a matching stamp or sentiments and then put a card or two together.
I rarely make multiples (and admire those that do it on a regular basis) so keeping odds and ends of papers is okay because I'm not trying to make lots of the same.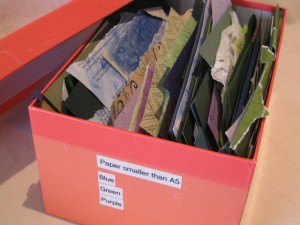 Every so often, I will still end up with a collection of paper pieces on my desk. then I will pull out all four boxes and sort the left overs out.
I would love to hear about how you store your small paper pieces ~ please leave a comment!
.

.