~ * ~
This article was written by Elaine Brady Smith 
A lot of people are fascinated by encaustic painting. I meet so many that say…"oohh, I've always wanted to learn how to paint in encaustic!" And I love to hear that kind of enthusiasm for this medium. However, getting started in encaustic painting can seem like a daunting task, especially when you don't even know yet if you will like it or not.
I'd like to help take the mystery out of "getting started" with encaustic painting and show you how to gather tools and equipment in an easy and economical way in this 3 part series. Yes, there is a lot of information to relay, but I want you to be thoroughly informed so you will have fun with this exciting medium. Here is what will be included in each of the articles:
July – Encaustic Basics-Part I-FAQs about Encaustic Painting
August – Encaustic Basics-Part II-Preparing Substrates, Fusing Methods, Adding Color
Sept – Encaustic Basics-Part III-Adding Collage and Embedding Objects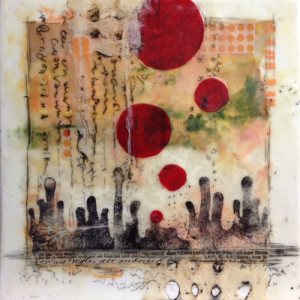 What Does Encaustic Mean?
"The word encaustic originates from the Greek word enkaustikos which means to burn in, and this element of heat is necessary for a painting to be called encaustic." Wikipedia.com
Encaustic painting is an extremely versatile medium with techniques and styles that are as individual as the artists who use them. There are numerous techniques to use in encaustic painting that can produce a wide range of results from a smooth flat finish to very textural surfaces. Encaustic can also be used to add collage and assemblage elements to your work and surprisingly it is also a superb sculpting medium. I am always amazed at how different artists approach encaustic with similar techniques and get such varied results. It's really incredible!
There are many artists using plain beeswax for collage art and that is perfectly okay provided it is done on a stable surface and fused properly. I will be discussing "encaustic painting" here, which uses a medium made of beeswax and damar resin and the paint (color) made from encaustic medium and powdered pigments.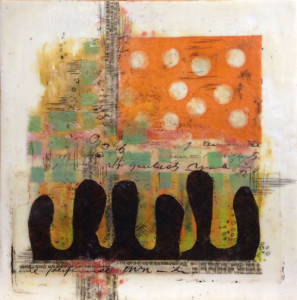 What is Encaustic Medium?
Encaustic medium is made with beeswax melted with Damar resin. I usually purchase refined beeswax and Damar resin from Swan's Candles to make my own medium.
The ratio between the beeswax and damar resin can be 5:1 up to 10:1. I prefer the 5:1 ratio for hardness and shine factor. It is not recommended to ever use bleached beeswax for encaustic painting. And if you have a local beekeeper who can supply you with beeswax, that is fine to use too. Just know that there will still be a good amount of pollen suspended in the beeswax, which acts as a pigment and darkens the color of the wax.
It is less expensive to make your own encaustic medium than to purchase ready-made medium; however, ready-made medium is as clean and pure as you can get for clear coverage and bright colors. I make my own medium to economize, but I also love using ready-made encaustic products for their convenience and consistency.
Milled, powdered pigments are added to the medium to make colored pigment cakes that are used as your paint. You can make your own pigment cakes with medium and powdered pigments, but it is labor intensive and extreme safety precautions must be taken when handling the dry pigments.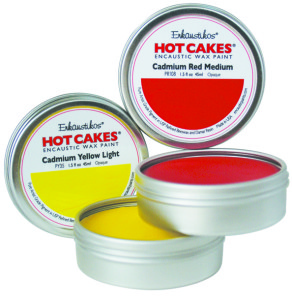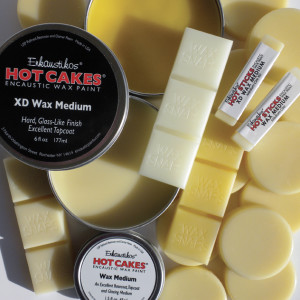 For beginners, I recommend purchasing medium and pigment cakes from Enkaustikos. They are one of my favorite companies and the quality vs. cost of their products is outstanding. They have made encaustic painting affordable with convenient product sizes and pricing. Go to their website to find a retailer near you to purchase their products. There are also many online sources for Enkaustikos products like The Fine Art Store.
What Substrates Can I Paint Encaustic On?
Wax will adhere to a variety of surfaces. The most important thing to remember is that the surface must be absorbent and porous. If it is not absorbent and porous, the wax will eventually crack and flake off the surface.
Some excellent choices are: Birch Plywood, Regular Plywood, Unfinished Pine, Un-tempered Masonite, MDF, and Cradled Panels. The wax can be painted directly onto most unfinished wood surfaces, but by preparing the surface with Encaustic gesso or Bristol paper, the look of the piece will be enhanced and give brighter color results. I'll cover prep of wood surfaces in the next article.
Stretched canvas is not a good surface for encaustic work. It is too flexible and the give is too unstable over a long term. Most paper is absorbent and porous and does provide a good surface for encaustic monotype and printing. It does not, however hold a great amount of wax and will become saturated at some point.
There are many surfaces available for purchase from retail artist supply companies that are perfect for encaustic art. More and more companies are making products that are compatible with encaustic work. I often purchase ½" unfinished pine boards from the lumber yard and have them cut into convenient sizes. Many hardware stores like Home Depot or Lowe's (in the US) will cut the wood for you, but I like a bit more control over my sizing, so I usually ask a friend to make the cuts for me. You can also purchase unfinished wood painting panels from many art stores and online.
What Equipment do I need for Fusing?
Each layer of wax that you brush onto your painting surface cools very quickly and hardens almost immediately as you work. As you add additional layers of wax they each become individual layers, one on top of the other. If you were to leave them as separate layers, they would eventually become unstable and begin to flake off over time. And you wouldn't want that to happen after you have worked so hard on a piece!
It is necessary to fuse, or add heat to each and every layer in encaustic painting. This may seem tedious at first, but it is a necessary part of the process. As you fuse, each layer becomes one with the previous layer. As you add layers and fuse after adding each layer, your work becomes one solid layer of wax. This will make it strong and last many lifetimes.
Fusing is the process of adding heat to the surface until you see a slight shine, then remove the heat and allow the wax to cool. It is possible to fuse very large areas with a heat gun or acetylene torch, and it is possible to fuse very small areas with a small butane or crème Brule' torch or a mini quilting iron. As you practice with different heat sources, you will begin to know which you prefer and which to use for different techniques.
I prefer a heat gun that has low/high settings so I can control the amount of air when fusing my layers and I believe the heat gun is the best heat source for beginners. There is no flame involved and that alone eliminates much fear when you are just learning. The torches are great for large works of art and to experiment with, but I recommend getting used to the basic process of encaustic before using them!
Inexpensive heat guns are available at many hardware stores. I purchased one for $15 at Harbor Freight. I have used many other more expensive heat guns, but this by far my favorite!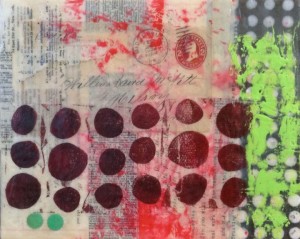 Can I do Encaustic Painting in my House?
You do need a bit of space to work on encaustic, and just like many other art mediums, in an area of your house that you do not have to worry about the mess. You should have a sturdy table to work on, be close to electric outlets and have sufficient ventilation. My work station is in my basement studio near a window and I have a fan sitting in the window to draw the air out of the room. As long as your area is well ventilated and your wax in not heated at too high a temperature, you will be fine. The proper temperature for melting encaustic medium and encaustic pigment cakes is between 170 degrees and 200 degrees. If anything starts smoking, you know your temps are set too high.
What Equipment do I need for Encaustic Painting?
You will need a palate on which to melt your medium and pigment cakes. Many encaustic artists start out using a pancake griddle, which is an easy item to find. I checked on Amazon.com and for $25-30, there is a huge variety of pancake griddles so I won't recommend a specific one. I would however, recommend getting one with a numbered temperature gauge to control the heat setting. If you have a griddle that has low/high heat settings, then I would recommend getting a flat surface thermometer. There are commercially made encaustic electric palettes with anodized aluminum surfaces that are great, however I would recommend starting with an inexpensive pancake griddle until you find what suits your needs.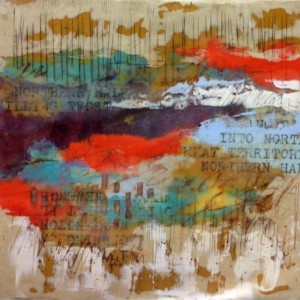 What Other Tools do I need for Encaustic Painting?
In addition to a heat gun (or other heat source) and pancake griddle (palate), you need tools to apply the wax to your surface. Cheap bristle brushes are great for this and can be purchased at the hardware or craft store. Don't use synthetic brushes, as the heat will eventually melt them. And once you've used a brush with pigmented wax, it is best to dedicate the brush to that color, as it is difficult to completely clean brushes once they are used with wax. In fact the tools I use for encaustic are all dedicated to just encaustic work. You will also need metal containers to hold your medium and paints. I used aluminum or tin cans. It's a great way to recycle cat food or tuna cans. Just make sure they are very clean and dry before putting your encaustic paints in them.
So this is basically what you will need to get started in encaustic painting. Of course there are many more tools that you might collect to use in your encaustic work, but this is a basic list to show you that it is not that expensive or difficult to get started. You can begin to collect your tools and equipment and next month we will discuss how to prep your substrates, fusing methods and adding color to your work. There is a lot more to talk about. We are just beginning to have fun!!!
 ~*~*~*~*~*~*~*~*~*~*~*~*~*~*~*~*~*~*~*~*~*~*~*~*~
Elaine Brady Smith loves creating acrylic mixed media and encaustic collages. Key ingredients in her work are vintage papers and her own collage papers made with repetitive marks, simplistic shapes and transparent layers.  She also enjoys other art mediums such as art journaling, oil painting and colored pencil drawing in addition to writing, teaching and spending time with her family. Find more on her website: elainebradysmith.com and on Facebook: Elaine Brady Smith Art
~*~*~*~*~*~*~*~*~*~*~*~*~*~*~*~*~*~*~*~*~*~*~*~*~
.

.