Florence is a beautiful city with it's galleries, churches and palaces but my favourite memories will be of the many street artists that could be found in the shady corners and streets of the city. Many of the street artists getting the tourist's attention were drawing amazing portraits; their quick skills and incredible likenesses gaining the attention of many. Others were creating lovely water colours, others rough works with acrylics.
The symbols of Florence where everywhere in these paintings – Ponte Vecchio, the San Maria Basillica dome, the skyline from Piazzale Michelangelo, the Tuscany country side; all represented in the muted shades that are well known in this part of the world.
The one that caught my attention was this lady, creating lovely water colours on cotton and finishing them with sepia ink. I could have watched her all day and it created a yearning for my own paints and art supplies.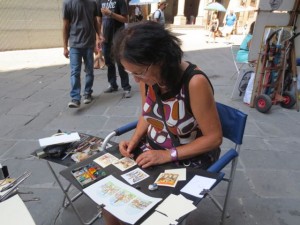 When you visit Florence, make sure you allow time to wander the street without aim and spend time watching the street artists; you never know which corner you wil find them around.