~ * ~
This article is written by Victoria Warren-Mears
Finding inspiration for mixed media projects sometimes comes easily and other times can be difficult.  The inspiration for this Seashore shelf came from the photograph that you see, taken in about 1934 in England of my dad and his older brother.  My dad immigrated from England to the United States at the end of World War II.  Unfortunately, his older brother passed in World War II, as a member of the English Home Guard of Tuberculosis.  When my family immigrated, they chose clothing and household items over paper and photographs, because they were flying and had a weight limit imposed, much the same as today's luggage weight limits.  The few photographs I have of my dad's family are very special to me.
My immediate thought for this photo was something representing the seashore and the color turquois, or in this case Indian Blue acrylic paint from Delta.
I found this row boat shelf on-line about a year ago and though it to be the perfect base for my project.  I used a faux crackle paint technique for the outside and inside "flooring" of the boat.  Initially the outside of the boat shelf was painted Indian Blue and allowed to dry thoroughly.  I wanted large crackles, so the piece would look very aged and worn, so I added a thick layer of liquid adhesive (I used Elmers Glue) and allowed it to dry until it was just tacky.  Then I layered an Ivory acrylic paint from Delta over the liquid adhesive, using a light touch and allowed to dry.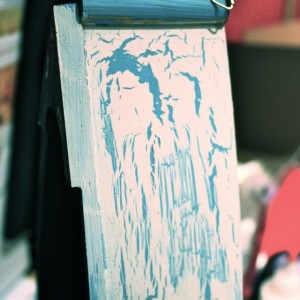 The inside was done in the same manner using a lighter layer of liquid adhesive, which produced fine crackles.
For shelf embellishment, I knew that the photo was going to be my focal image.  I used a lighthouse image cut from K and Company paper by hand.  The image was adhered to the shelf using dimensional mounting tape.  I then added found drift wood, rocks and large shells from beach vacations that my family and I have been on.  These items were adhered with liquid adhesive and definitely are a good use of found memorabilia.  The tiny shells are from Mudd Puddles, which is a product that has tiny shells in an adhesive, which is spread like frosting.  I allowed all of the dimensional natural elements to dry overnight.  I adhered my special photograph, which is actually a copy of the original photo, which was scanned and printed. I also added the crab and seagull images from K and Company. Throughout, I chose to stick with a theme of blues, ivories and light brown. The last step was to use liquid adhesive to adhere the fencing (Darice brand).  I again allowed everything to dry overnight.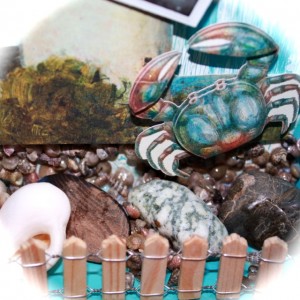 The shelf's drawer was painted a lighter shade of blue attained by mixing the Ivory and Indian Blue acrylic colors.  I decorated this portion with additional paper elements from K and company to further the seaside theme.
I am considering making additional canvases and decorations to include not only vintage images, but found objects.  I think it is a fabulous way to incorporate memorabilia from one family and one's history into meaningful art for the home.  Care to join me?
~*~*~*~*~*~*~*~*~*~*~*~*~*~*~*~*~*~*~*~*~*~*~*~*~
Victoria Warren-Mears is full time scientist and part time artist working in paper and mixed media.  She can be found at work in her home studio, along with her husband, son and rescue dog.  You can see more of her work online at Victoria's Mellifluous Musings.
 ~*~*~*~*~*~*~*~*~*~*~*~*~*~*~*~*~*~*~*~*~*~*~*~*~
.

.