~ * ~
This article is written by Leeanne Oschmanns
A strange title? Perhaps, but this is the way that Mixed Media Art found a place in my heart. For many years I dabbled with painting and drawing in singular mediums, usually acrylic or coloured pencil. Sometimes I played around with water colour too. There was always a problem for me though. I am a writer and most particularly, a poet. Poetry has always been my soul escape.
My way of shedding light on the things that seemed darkest or most beautiful. Those small things that make every day a unique event to grasp and run with. So a craving for harmony and balance in my creativity led me to a need to express my poetry in more than words. Merely drawing or painting a picture didn't work. It was too stifling and usually limited the expressive elements to one aspect of the poem. It also tended to intrude on the imagination of the reader. The beauty of poetry is that it is many things and something different to each person. The same can be said of mixed media. A single piece can be interpreted in ways that are meaningful to the beholder and their unique experience.
The power of symbols and the beauty of texture and medium render a flexibility that is more difficult to achieve in styles of singular medium and subject. That is not to say that a mixed media piece can't also be specific to a subject, because it can. A single image or many symbols, all have their place in this beautiful art form. Mixed media then,is versatile and diverse. It can be metaphor, craft and soul expression. Sometimes a thought so profound that it should not pass can be symbolised and articulated with visual richness and subtle suggestion.
Recently in Britain, the public were encouraged to contemplate the 100th anniversary of The Great War by burning only a single light, preferably a candle, in the darkness. I felt moved to express my thoughts around this in a poem. From the poem, a series of images emerged in my mind, and I set about bringing together some specific symbols that represented my perspective on this very profound historical event which complemented the poem.
Creating "A Light To Remember"
The piece I wanted to create for this article was an expression of a poem I wrote in commemoration of the Anniversary of World War One. The central image of a woman from a local family (their great grandmother who served) is quite haunting, so that became my initial focal point. After finding a few appropriate pics, I made photocopies and  then created transfers of the soldier and the cross, and the candle as symbols of remembrance. For the transfers, I used the simple technique of burnishing the copy onto clear contact, soaking and then rubbing off the paper. This allowed me to merge the elements. I also made a transfer of some poignant lines from my poem,  A Light To Remember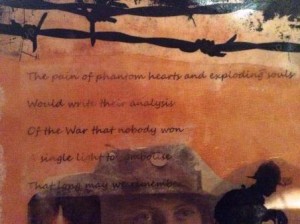 After covering the canvas board in a muted wash, I set about composition and placement. Due to this piece being a visual representation of a poem, I wanted to integrate and overlay the elements. Each element was a powerful symbol of war, as can be seen. Once I was happy with placement, I then used gel medium to stick them in place. In many ways, remembrance of our war dead and wounded has powerful spiritual and religious connotation. I chose to reinforce this with the symbolism of the cross for which I used ribbon of poppy red  (of the red poppy fields), and which was also echoed in the image of the soldier. I added texture to the piece with a border using relief paste which I stippled with a brush.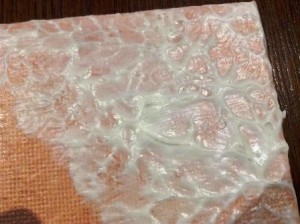 This is beautiful to work with and is quite forgiving of reworking.  Once the border was done, I applied a clear glaze in readiness for an antiquing wash. The border framed the piece as though looking through a window in a dream. I decided to put a smoky night-time wash over it to give the impression of looking through the 'mists of time'.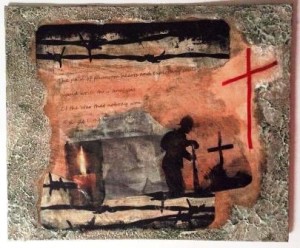 ~*~*~*~*~*~*~*~*~*~*~*~*~*~*~*~*~*~*~*~*~*~*~*~*~
About Leeanne – I write about life and ponder a lot. I see stories and poetry in many things. Personal growth and understanding are my passion, but people and animals complete my experience of what it is to be human. This world is beautiful. Only people make it ugly. I am a tamer of teenagers, freelance writer, and I make my art as an expression of my writing and the little montages of life that confront me on my journey
~*~*~*~*~*~*~*~*~*~*~*~*~*~*~*~*~*~*~*~*~*~*~*~*~
.

.