~ * ~
This article is written by Kim Kelley 
Have you ever thought about how you are feeling when you create your art? Are you happy? Sad? Grieving? Excited? Some people will tell you they find themselves in the creative mood when they are happy, some say that their best piece of art came out of their lowest time.
For me, the more "personal art" I have created over the years, came out of me being at my saddest. And this, my latest canvas, came from this.
To give you a little insight into the canvas I have to tell you a story:
10 and half years ago a little 3 week old Akita puppy chose us for his parents. Koda was the most adorable little guy and we fell head over heels in love with him. He was a perfect addition to our family. We also rescued a 4 year old female Akita, named Zilla about 8 months after bringing Koda home.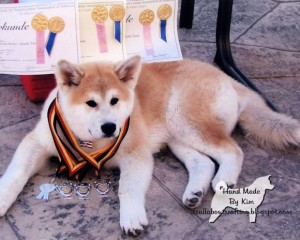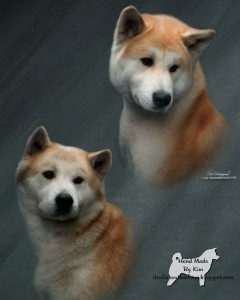 Koda got sick in 2007 with an auto immune disease. He would have a few bad months, and then would slip back into remission. Doctors informed us he was in no pain…just itchy…needed medication and to stay out of the sun. That was the hardest part; I mean we live in Arizona!
May 29th we had to take him to the animal emergency room, his white blood cells had dropped from medication and were not improving. So we made the decision to let him go. Even as I am writing this the tears are starting to fall.
OK Back to the task at hand…
I  started with a 9 X 12 canvas, cutting a square in the center for my picture to show through. I have never done this before and after completing the project I thought I might change it a bit and add a pocket under the canvas so that I can change the picture out if I want.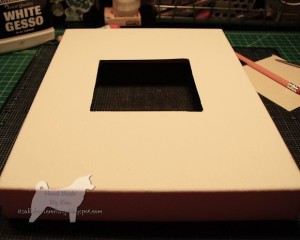 I added texture with some Golden's Gel in Semi-Gloss and the Burlap stencil from Tim Holtz. After letting that dry I used some copper, orange and gold sprays from Lindy's trying to mimic the colors from the photo I was going to use. I added some brick chipboard pieces, filling them with stucco, painting the inside with brass and black paints and outside white paint mixed with a little bit of stucco for texture.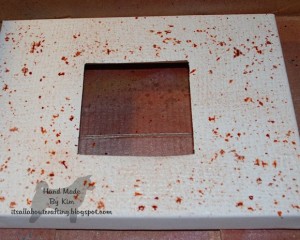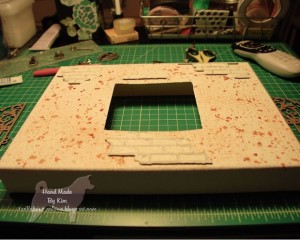 I added a few metal pieces; a heart (because he will always be in mine), angel wings, a key, a lock and a dog tag that has "KODA IN OUR HEARTS FOREVER".  Then attached chipboard gates that I heat embossed and have bumped up a bit to look like they are open.
This is the canvas I created celebrating Sunrock Kelley's Kajita Tama: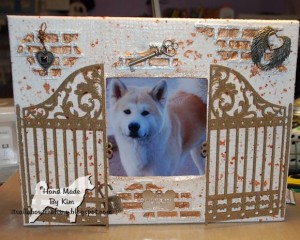 We lost Miss Zilla to bone cancer in May of 2013; needless to say May has been a bad month for us!
I created this canvas for my husband of Zilla…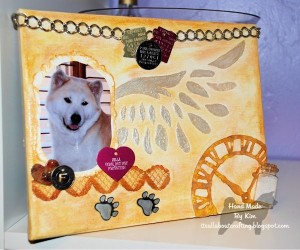 Thank you for allowing me to share a bit of my life. Happy creating.
~*~*~*~*~*~*~*~*~*~*~*~*~*~*~*~*~*~*~*~*~*~*~*~*~
Kim Kelley is borderline obsessive about her crafting and her art. She loves mixed media art because you are free to go beyond your comfort zone, using your imagination and exploring an anything goes mind set. Kim loves to learn and explore new techniques and hopes that any art she creates leads someone to find their inner creative artist!
You can see more of Kim's work at her blog itsallaboutcrafting.blogspot.com and via Facebook
~*~*~*~*~*~*~*~*~*~*~*~*~*~*~*~*~*~*~*~*~*~*~*~*~
.

.