~ * ~
This article is written by Anjuli Johnson
The term collage comes from the French word "coller", meaning "to glue".  Though it had been a technique for many years, the first mention of the term was around 1913 when Pablo Picasso and Georges Braque drew serious attention to collage as an art form.
Now, collage can be found everywhere- in elementary classrooms, photo albums, crafting and fine art.  It is used for many reasons- practicing motor skills, preserving memories, home décor, etc. In fine art, collage can be used to express different ideas through the different materials used- newspaper and magazine clippings to make political statements, blocks of color to suggest violence or the randomness of life, or even sections of old paintings and drawings cut up and reformed into something new.
I myself have been fascinated with a new collage technique I've been experimenting with- using modeling paste as a means to hide certain collage elements while keeping others visible.
I've been fascinated lately with the idea of hidden things, things lurking just below the surface, specifically in a person's character.  We all have things that we try to hide from other people- weaknesses and vices that are embarrassing or compromising, or even accomplishments that we are anxious or unsure of for some reason- talents we hold back because of fear.  Whatever the nature of our hidden parts, they affect our outward natures, as well.  I believe that, however good we may be at hiding certain things about ourselves (good or bad), there are hints to be found for those who look closely enough.
In my recent collages, this is exactly the idea I've been working to convey.  I begin with a layer of cut and torn papers, then I cover certain areas with modeling paste- sometimes thick, sometimes thin.  Once it dries, I sand certain areas (I love that I can do this so easily with modeling paste), and then I add some color and another layer of patterned papers.  More modeling paste is stenciled over to give it more texture and dimension, and a final layer of color.  Of course, I could completely mix up these steps- add some more or take away a few and use different elements for some new inspiration.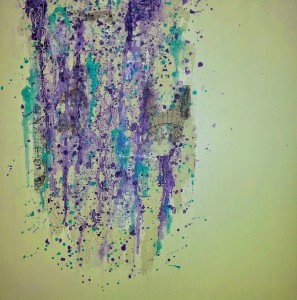 Collage is such a versatile medium with infinite possibilities.  I'm grateful when I look back on my initial attitudes toward collage- all I could see was bits of paper and fabric pasted together in random ways.  I didn't see the meaning, the purpose beneath the surface.  Now, though I can't say I fully understand the meaning behind every piece by every artist, I do see the purpose and the value.  Let's go find some new ways of putting ourselves into our collages.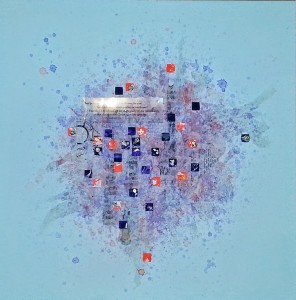 ~*~*~*~*~*~*~*~*~*~*~*~*~*~*~*~*~*~*~*~*~*~*~*~*~
Anjuli Johnson  is a Mixed Media Artist from Raleigh, NC.  She began her art career as a scrapbooker, and it's been an evolutionary process every since.  She loves all things mixed media- paper, glue, paint, canvas, pens, wire, gears… the list goes on and on.  She is constantly trying to push through her fears to discover and develop her talents, meet new people, and learn from those around her.  To see more of Anjuli's art and techniques, check out her website at www.thefarpavilion.com  and like her Facebook page.
~*~*~*~*~*~*~*~*~*~*~*~*~*~*~*~*~*~*~*~*~*~*~*~*~
.

.