~ * ~
This article is written by Kim Kelley
In one of my other articles I had added that I constantly have several projects going at once, sometimes so many I forget what I was going to do with them! My biggest problem with doing that is remembering to take pictures of each step along the way and then where I put them on my computer. Literally I have picture floating around that I have no clue where they are. I have looked, but it seems they are like that one lost sock…doomed to never be found.
Any way back to the task at hand: this month's project is a canvas that is a little larger than what I usually do, so let's see how it turned out!
Here is a list of what I used:
~ 8" x 24" canvas
~ White gesso
~ Spray mist by Lindy's Shabby Tuxbine Teal
~ Ayeeda  mist by 13 Arts – Chalk Burnt Sienna and Pearl Brown Light
~ Miscellaneous charms, flowers, metal pieces, wooden pieces, and jewelry pieces
~ Chipboard from Dusty Attic
~ Heavy Gel by Golden
~ Glue gun
When I start a canvas I usually have some idea of what I am going to create, knowing the theme, colors and style, with this one I just start throwing a bunch of random items into a box. As far as the colors go, I had just received an order with the 13 Arts sprays and decided I had to try them out. The teal I added because it seemed to work so well.
When I buy canvas I usually get the already primed, but still add my own gesso. So after the added gesso dried I started laying out my pieces…turning, moving until something finally stuck and I liked it. Grabbing my Heavy Gel I started attaching some of the bigger pieces and using my hot glue gun attached the smaller ones.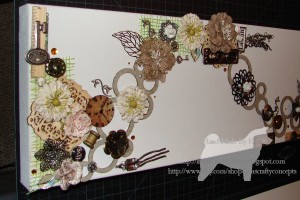 Canvas with embellishments 1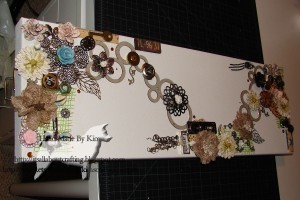 Canvas with embellishments 2
As you can see by the pictures color and material did not matter to me. I just grabbed and glued, knowing I would be painting over everything with gesso.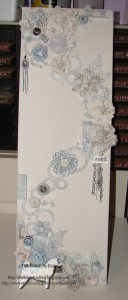 Gessoed embellishments 1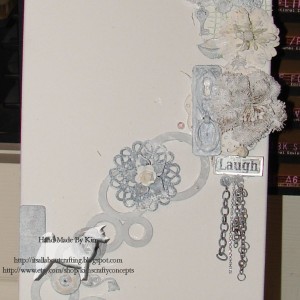 Gessoed embellishments 2
After it dried I started in with my sprays. Now I am one of those people that cannot wait for anything, I don't like to use the word impatient too often but yes I am impatient, and with sprays it is not a good thing to be. You truly want your spray to dry before going onto the next color…it can get ugly real quick!
Sprays used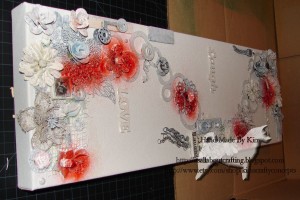 Spots of spray 1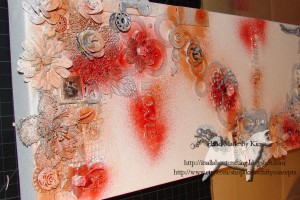 Spots of spray 2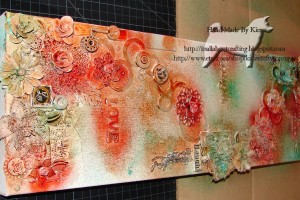 Spots of spray 3
So I was very patient with this one. I continued to spray alternating each color until I felt like I was happy with it. SO….here I is my finished project.
Finished project
I was pleasantly surprised when my husband decided he wanted to hang it up, usually unless it is something I made specifically for him it goes in an area to be sold. (if I ever get my act together to do a show!) But this time he loved it so much he hung it right on the wall!
Life is short, do something creative every day!
~*~*~*~*~*~*~*~*~*~*~*~*~*~*~*~*~*~*~*~*~*~*~*~*~
Kim Kelley is borderline obsessive about her crafting and her art. She loves mixed media art because you are free to go beyond your comfort zone, using your imagination and exploring an anything goes mind set. Kim loves to learn and explore new techniques and hopes that any art she creates leads someone to find their inner creative artist!
~*~*~*~*~*~*~*~*~*~*~*~*~*~*~*~*~*~*~*~*~*~*~*~*~
.

.