This article is written by Vikki Geary
Stuart Morris is a successful British artist based in East Anglia, and his textile printing business is well-established as one of the UK leaders in charity fundraising. Parents in particular may already be familiar with Stuart's work, as he specialises in school tea towels featuring self-portraits of the class.
This article looks at Stuart's life as an artist and how he turned his love of art into a successful business.
Early life and education 
Stuart has always been creative and remembers looking forward to art classes at primary school. His coastal family home afforded stunning views of the sea, and Stuart loved painting pictures of the sailing boats as they passed by, and his painting of his favourite steam train 'the Puffing Billy' won first prize in an art competition.
It was at the age of 19 when Stuart made the decision to take art and design seriously. He moved to Paris, one of the art capitals of the world, where he spent his time wandering around the city searching for inspiration. He particularly admired the majestic stained glass windows of the Parisian Cathedrals and the ancient Egyptian exhibit at the Louvre, which sparked a lifelong interest in ethnic and primitive art.
It was here that he also developed a love for the Post-Impressionist painters Paul Cezanne, Paul Gaugin and Vincent VanGough. He also developed a passion for Paul Klee and Juan Miro.
After a year in Paris, he returned to education and studied a degree in Fine Art at the University of Leeds, followed by a Masters in Screen Printing at the University of Leicester. His studies introduced him to early Renaissance paintings as well as ancient Greek and Roman relics, furthering his interest in ancient art.
A successful artist 
After university, Stuart made his name in the artistic community with his colourful, large-scale prints and paintings. He displayed his work at solo exhibitions in Bonn, Cologne, Edinburgh and the London Barbican. His work has also appeared on the arts television programme 'Folio'.
As an artist, Stuart's interest in primitive art shines through in his use of natural materials such as wood, rock and sand, whilst his bold use of colour is a nod to the Post-Impressionists that captured his young imagination.
Today, Stuart divides his time between his personal art projects and his textile printing business.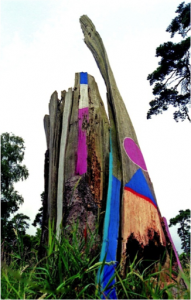 Textile printing
It was back in 1972 that Stuart founded his own textile printing company, Stuart Morris, and opened his first screen printing studio in a converted chapel in Suffolk.
Stuart Morris has developed organically over the years into a successful commercial business with clients at home and abroad, including 5,000 school customers, as well as heritage and charity organisations.
Stuart's top 5 tips for aspiring artists
Be single-minded and set your sights on what you want to achieve,
Be determined and don't let anything stand in your way,
Work hard at your craft,
Release your inhibitions and let your personality come out in your artwork,
Be expressive – the best paintings are not necessarily 'life-like', but tell a story
 ~*~*~*~*~*~*~*~*~*~*~*~*~*~*~*~*~*~*~*~*~*~*~*~*~ 
You can see Stuart's artwork and textile printing business online at http://www.stuartmorris.co.uk/
  ~*~*~*~*~*~*~*~*~*~*~*~*~*~*~*~*~*~*~*~*~*~*~*~*~
.