This week we have Rachel Greig from Darkroom Door to tell us about her meanderings into mixed media art.
Take it away, Rachel…
Hi! My name is Rachel Greig, I am a photographer, mixed media artist and proud owner and designer of Darkroom Door, a rubber stamp company based in Australia.
My journey into the craft world began in the 90's when I was at university studying for my Bachelor of Visual Art degree. This course covered many different visual art mediums, including book binding, sculpture, printmaking and fibre arts. Photography was my major subject and after I graduated I began my career as a professional photographer. During this time I began using rubber stamps to create handmade cards and it wasn't long before I started thinking about using my own photos to design my own range of rubber stamps. At first I licensed the designs out for other rubber stamp companies to manufacture. A few years later, my husband and I started decided to start our own rubber stamp company called Darkroom Door. The name is inspired by my love of photography and many many years spent in black and white darkrooms!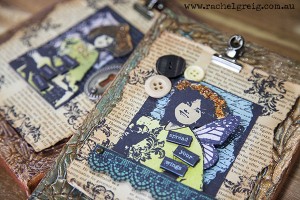 I've always loved mixed media, whether its in an art journal or on canvas or other surfaces. Rubber stamps feature heavily in my artwork. I love creating textures using rubber stamps and paints.
This butterfly canvas was created using Viva Décor Ferro texture paste and Darkroom Door rubber stamps. Ferro is a metallic paste that looks amazing when stamped into to create texture. Once it's dry, I use Precious Metal Colour to highlight the texture. It's a wonderful combination!
I'm fortunate to be able to travel around the world to teach workshops in mixed media and rubber stamping. I love meeting other artists, sharing ideas and making new friends!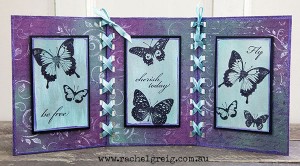 I live near the beach with my husband and business partner Stewart, our two children Ethan (12 years) and Zoe (9 years), along with Sally our cute puppy dog, our pet guinea pigs and birds.
Blog: http://www.rachelgreig.typepad.com/
Darkroom Door
Website: http://www.darkroomdoor.com/
Facebook: https://www.facebook.com/darkroomdoor
Twitter: https://twitter.com/darkroom_door
Pinterest: http://pinterest.com/darkroomdoor/
Flickr Group: http://www.flickr.com/groups/darkroomdoor/
YouTube: http://www.youtube.com/user/rachelgreig
.

.