Our Mixed Media Art community is a diverse bunch; from all around the world, with different interests and reasons why we create and a wide range of skills. This week Marie Aldrich shares her passion for painting.
~*~*~*~*~*~*~*~*~*~*~*~*~*~*~*~*~*~*~*~*~*~*~*~*~
Painting is my passion. I love to do it. I am drawn to new ideas, colors and how the paintings take shape almost magically. I think the urge to create is universal and dwells within each of us. I realized this creative need quite early in life, with the creation of my first wall mural (in orange crayon) at the age of two.
My artistic process is completely intuitive and I don't have preconceived notions before I start a new series of paintings. I feel it's still this same force that guides me to paint and explore new art forms today.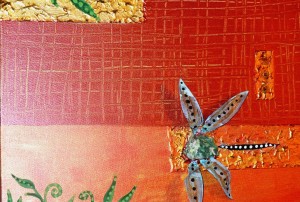 My acrylics on canvas contain texture, warm and metallic colors and also collage-like compositions with actual pieces of metal and semi-precious stones worked into the paint.
I have always been drawn to abstract designs and the creative process itself.
My work embodies my interests including nature, textiles, interior design, Feng Shui, dreams and energy work. My art is influenced by all these ideas melded together.

I follow my heart and the art that's created reflects the love I put into each piece.  My intent is to share the love and joy I get from the creation of my paintings with the viewer and owners of the paintings. My wish is for the viewer to be happy whenever they see the painting in their space.
I customize paintings by size, color scheme and crystals used, for example, pink quartz for love energy or pyrite for prosperity energy. Each painting has a card explaining the energy or properties of the crystals used in the painting.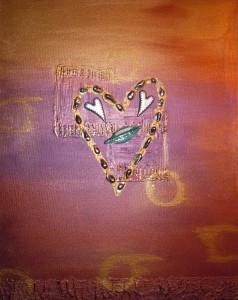 This painting is called "Twin Flames" and portrays the "movement" between energies. The purple represents the flame that cleanses karma between the twin flame relationships and the abalone shells, at the edge of the heart, are useful in emotional situations. The eight gold circles represents infinity that describes the unbreakable bond between these two souls.
You can seed more of Marie's artwork at her website Aldrich Art.