Our Mixed Media Art community is a diverse bunch; from all around the world, with different interests and reasons why we create and a wide range of skills. This week Joy Bathie shares her passion for mixed media painting and handmade books.
~*~*~*~*~*~*~*~*~*~*~*~*~*~*~*~*~*~*~*~*~*~*~*~*~
I live in Australia, on the northern headland of beautiful Port Stephens, north of Sydney. From childhood I have always loved arts and crafts of all descriptions, and over the years have worked with papers and fabrics, machine and hand embroidery, stained glasswork, metalwork, sculpting, painting – you name it!
For many years I painted in both oils and acrylics, mainly abstracts and contemporary art, which I enjoyed enormously.  Then for a while I was absorbed with scrapbooking techniques with an online group in the United States, long before the craft became known in Australia or even mainline in America.  There were no scrapbook stores back then, so we used to gather and recycle scraps of anything and everything.  I guess this was my first real introduction to "mixed media" as an art form. I later continued gathering, altering, and recycling materials to use in collage and altered books for a number of years.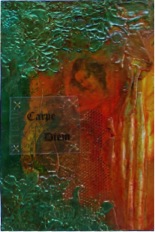 This ATC (Artist Trading Card) uses recycled corrugated cardboard, and a piece of clear acrylic from a chocolate box.
Apart from recycling what used to be considered as 'junque' I like to use handmade paper to create texture, along with beads and scraps of lace etc. I also love to stencil texture with impasto medium, and tend to use gesso quite a lot too.  Over the years it's been great fun to share my experiences with different techniques at workshops around the country.
Over the past few months my interest has moved back and forth between making textured covers for notebooks etc. and also miniature books – the latter being something I never thought I would be able to create. A recent miniature medieval-style book of quotations, measuring 18mmH x 18mmW x 12mm deep (¾" x ¾" x ½") and safely protected in its little box is to be included in a new publication by North Light Books, titled "Incite: The Best of Mixed Media – Dreams Realized", which is being released later this year.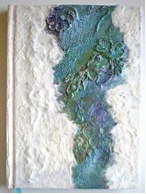 One of the pages originally created for a Little Fat Book, but I was so happy with the result that I re-created the entire book in miniature, as mentioned above. But for the foreseeable future I am sure I will be creating and decorating books, books, and more books!
~*~*~*~*~*~*~*~*~*~*~*~*~*~*~*~*~*~*~*~*~*~*~*~*~
Joy Bathie lives in Port Stephens, NSW, Australia. You can see what Joy is up to over on her Facebook page.
~*~*~*~*~*~*~*~*~*~*~*~*~*~*~*~*~*~*~*~*~*~*~*~*~
.

.