Today we are SO pleased to be presenting Jennifer Schultz, from One Happy Little Mama, and her brightly colored acrylic paintings.
Take it away, Jennifer…
I am a self-taught artist, mommy and wife living in Georgia. I've always had a passion for art and drawing.  After I got married and had children, my art took a backseat and my focus turned to my family.  Now that our youngest is 5, I've been able to find more time to devote to my love of expressing myself through my art.
Mostly, I work with acrylics although I occasionally incorporate oil paints and watercolors into my works.  My process is sort of a mixture of whatever I'm feeling at that time. I don't do a lot of pre-planning, it's more like letting my hands do what they want to do, at that particular time. I enjoy getting lost in my paintings! For me, it's best not to over think but, instead, have fun and just be in that moment.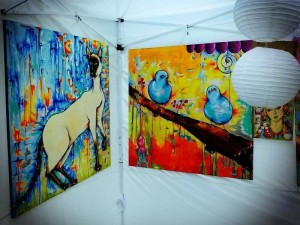 I'm drawn to birds, unusual objects in nature and I find beauty in interesting faces. Ever look really closely at a mushroom? Or, a Poppy flower pod? They're beautiful little works of art that go unnoticed every day. I like to recreate these types of objects, on a larger scale. I found a quote by Georgia O'Keeffe once, it read: "When you take a flower in your hand and really look at it, it's your world for the moment. I want to give that world to someone else. Most people in the city rush around so, they have no time to look at a flower. I want them to see it whether they want to or not." That quote really resonated with me.
Since getting back to creating, over the last few years, I've realized how important it is for me to be able to express myself, through my art.  I missed having that outlet.  I think everyone needs some form of self-expression.  My hope is that my kids may also find a passion of their own. I think it's something everyone needs in their lives. Self-expression is key and I try to encourage my children to find their own voice. Unfortunately, there are too many adults running around who've either lost their voice or were never given the encouragement to find it in the first place.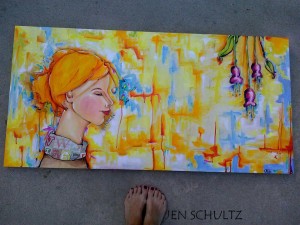 ~*~*~*~*~*~*~*~*~*~*~*~*~*~*~*~*~*~*~*~*~*~*~*~*~
If you would like to view more of Jennifer's art, you can visit her via:
or Facebook ~ One happy little mama
~*~*~*~*~*~*~*~*~*~*~*~*~*~*~*~*~*~*~*~*~*~*~*~*~
.

.