Christine Marshal was born in England and now resides in Boston, and is a self-taught artist. Here she is to tell us a bit about herself – take it away Christine …
~*~*~*~*~*~*~*~*~*~*~*~*~*~*~*~
I am a self-taught, abstract artist, originally from Manchester, England but been living in Boston, Massachusetts for almost 11 years working with teenage youth with learning disabilities/mental health problems. Qualified as a Reflexologist in 1999 (no I don't have a foot fetish, but I do believe in holistic therapies:) Also enjoy black & white photography and I'm a crazy "MANCHESTER UNITED" fan. My friends call me Rooney's Girl :p

I started painting in Jan 2013 when I couldn't find a wall art that I liked for a big wall space at home….I thought, "I bet I could do one myself"! I practiced on small canvas and discovered a talent I didn't realize I had and I absolutely love, love, love it now !!!!.  I'm constantly thinking about my next projects and it's keeping me awake at night. agghhh. My friends nicknamed me Picastrokes (hee hee)
Although a perfectionist, art has given me the freedom to embrace and enjoy my mistakes in a fun and exciting way. I've always loved texture and shimmering objects so you will see these in lots of my artwork. I especially revel in metallics, gel mediums & embellishments that add structure and interest. Many of my favorites include:-
Jewelry
Mica
Beads
Metal
Wood
Words/Lettering
Thick gel mediums
Glass beads
Broken ceramics
Steampunk
Candle wax
Sequins
Driftwood
Glitter
Buttons
I never ever plan what I am going to make. I just like to experiment and see where it takes me. I have a large selection of paints, embellishments and found objects surrounding me ready to throw in the mix… I like to call my work "creative accidents"

This year (without any experience or help) – I created my first online gallery shop on Etsy, called "Key2MyArt" as well  as  creating a Facebook page "Key2myart – Christine Marshall".  Please feel free to post your pictures of YOUR art on my page…Would love to help independent artists share and sell their work!
I was also very happy to sell numerous mixed media art at my first ever arts and craft show at ASSEMBLED in Somerville, MA. (with no experience in this field at all). This is all very new to me, as is learning about all the different art techniques available. I'm so eager to dabble in everything, but right now I'm hooked on mixed media and can't absorb myself enough in all the beautiful art that I've viewed on so many websites recently. There are so many unique artists out there. I'd love to own a large castle to display all of YOUR work!!!  I hope you enjoy my art as much as I enjoyed creating them for YOU !!

The Butterfly Effect-  Used acrylic and metallic paints with gel mediums on deep gallery wrapped canvas and threw in some glitter and tiny beads to add sparkle & more texture. Finished with 3d gold foil adhesive butterflies.

Gimme Some Lovin' –  Acrylics on deep canvas. Ink stamped with love and face motifs. Adhered 2x glass beads and silver sequins to add a little bit of glitz.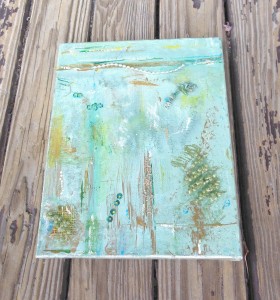 Tealing Earth – This canvas art is painted in a teal and metallic bronze acrylics. I then carefully glued the following embellishments to the canvas:-
TURQUOISE and JADE STONES from a broken necklace,
OLIVE GREEN RIBBON
METALLIC OLIVE painted PEARLS
GOLD GLITTER PAINT
TEAL SEQUINS
FRAYED YARN
BURLAP
PENCIL WOOD SHAVINGS .. Yep I will use anything and everything in my art work if I think it will work 🙂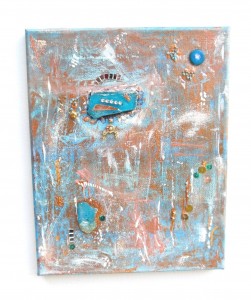 Mr Blue & Mrs Bronze-  –  Coated the canvas in turquoise blue acrylics and once dry added a copper metallic paint with a few dabs of titanium white. I then adhered buttons, tiny beads, sequins, broken ceramic, broken jewelery, blue glass, tiny square mirrors and copper colored foil from a chocolate wrapper.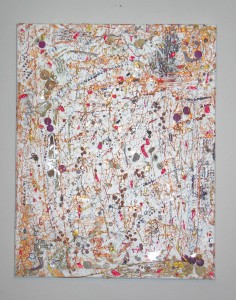 Birds In Chaos – I wanted to create a modern crazy, mish-mash of shimmering embellishments with a mixed media 3D  effect that would capture the viewers eye and pique their imagination with this shiny collection. I like to view this art as an exciting waterfall of objects that blend together perfectly and looks stunning when natural light captures it.  I first covered the canvas in a very thin layer of gel medium and then dropped handfuls of embellishments upon it. Some objects need to be adhered securely with glue. When dry I dabbed a little black with metallic gold and copper acrylics to add more color, then drizzled some fluid paint across the whole project. Finished with a gloss sealant to add more shine and protection. Look closely to find all the embellishments. Can you find the birdies?? 🙂
Gallery canvas = 16x20x3/4
beads, buttons, metal and mirrors
shimmering mica
Metallic acrylic paints
gleaming broken jewelery
two purple ceramic birds
gold and red foil
sequins
stones
pearls
.

.