~ * ~
Our Mixed Media Art community is a diverse bunch; from all around the world, with different interests, reasons why we create and a wide range of skills.  Over the next few weeks we will be featuring a range of mixed media artists to tell their stories and share their artwork.
This week we are heading to Madrid to see what Carmen (aka Cuchy) is doing with her mixed media art.
~*~*~*~*~*~*~*~*~*~*~*~*~*~*~*~*~*~*~*~*~*~*~
M. Carmen, from Madrid (Spain), is also known as Cuchy across the web.  She is 42 years old, has been married for almost 20 years and has 2 children (15 and 7) who also like the crafty side of life  As far as she can remember, Carmen has always been interested in any kind of arts and crafts.
"Mainly self-taught, I do not miss the chance to attend as many workshops, either online or on-site I can, being always in ongoing training", Carmen says. "My works have evolved from "clean and simple" to mixed media layers and layers. I love to try, experiment and learn new techniques with paint, papers, textures and everything within reach."
As a contributor and guest designer in various Spanish and international blogs, Carmen has taught several workshops in Madrid and Barcelona and loves to teach from her own experiences, and encourage the students to think outside the box and put their inner self in everything they create, to achieve a personal and unique result.
Carmen tries to balance her family life and work with mixed media, scrapbooking, music and her blog [http://la-almohada.blogspot.com], where you can see her latest projects.  In addition to all of this, Carmen also hosts an online crop every other Friday while chatting with some of her crafty friends.
~*~*~*~*~*~*~*~*~*~*~*~*~*~*~*~*~*~*~*~*~*~*~
Carmen has included one of her latest ATCs to show us.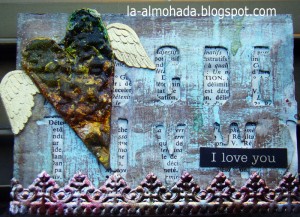 It's a grungeboard piece which she painted with acrylics and crackle paints. To achieve that grungy and rusty look on the heart, Carmen used the heat gun until the paint made bubbles. To finish it, a layer of clear UTEE was added.  The background of the ATC is a "negative" cardboard piece from an alphabet die cut. It's misted with glimmer, distress inks and has a piece of dictionary paper on the back that shows through the "empty letters".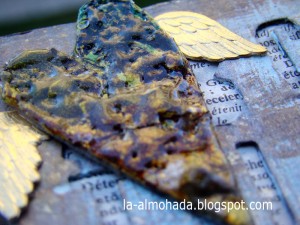 The border is a piece of german scrap coloured with alcohol inks.
~*~*~*~*~*~*~*~*~*~*~*~*~*~*~*~*~*~*~*~*~*~*~
Thank you so much for sharing your story and your wonderful ATC with us, Carmen.
.
.

.