Kina, from The Stamp Room, has made this cute little mixed media collage on a 4″ x 4″ canvas. She shares her process with us.
~*~*~*~*~*~*~*~*~*~*~*~*~*~*~*~*~*~*~*~*~*~*~*~*~
This little 4×4 canvas was gessoed, I then took my new Hexagon 6×6 stencil from the Crafters Workshop and a little embossing paste.
While this was all drying, my Prickley Pear Rubber Stamp large Hibiscus die came out. I punched out 4 flowers in metal, used Copic RV93 and RV95 to color them, and made the large flower by cutting and gluing it.
Next I stamped with Archival ink, I used both of the PPRS Hibiscus Clear Stamp sets. I also used the smaller Hibiscus die and cut out 3 paper flowers using BoBunny's "C'est La Vie" paper pad.
Time to paint!! I used my new Art Anthology Inc. Colorations Vineyard Spray as well as Distress Victorian Velvet and Bundled Sage. Glued down paper, again from BoBunny's  C'est La Vie paper collection, and a strip of folded washi tape from Prima's Sunrise Sunset collection.
My big metal flower and one of the little ones got tiny orchid colored glassbeads glued to the edges and I added a white "pearl" to the middle of each flower, glued the big flower in place and stamped my Sentiment from the PPRS Hibiscus Set 2 in Archival ink.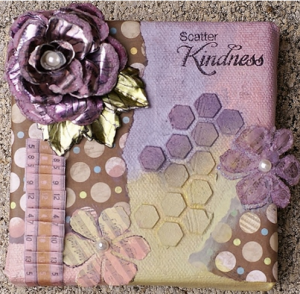 I sure hope you enjoy it as much as I enjoyed making it!
~*~*~*~*~*~*~*~*~*~*~*~*~*~*~*~*~*~*~*~*~*~*~*~*~
Kina can be found, hanging out in her Stamp Room in Florida, USA.
~*~*~*~*~*~*~*~*~*~*~*~*~*~*~*~*~*~*~*~*~*~*~*~*~
.

.