This article is written by Debbie Ward of Lucky Girl Paper Arts.
I find myself falling into a new category of paper crafter, the "frugal" artist. A few months ago, I had to put myself on a spending diet. I don't know if any of you have ever done this, but, in short, you either reduce the amount of what you have been spending on your supplies or completely cut your spending 100%.
I had to do this because I had just come back from the local scrapbook store, happy with my purchases, until I got home, opened the items, and realized everything I bought I already owned. I was so angry with myself I gave myself a "time out" from spending. I had to get creative with things I already had laying around the house if I wanted to continue to create. I not only found it a challenge but I treated it like a game, and the best thing about it, I saved money.
Take a moment, think about what you might have in your own home that can be used in your card making arsenal. If you have children in your home, you may already be sitting on a large stockpile of doodads & trinkets. If you do not have children, start going through drawers and cabinets and you may be surprised what you might find. Here is a short list of things I found when I started looking around my own home: old books, corrugated cardboard from an old mailing box, aluminum foil, old jeans, buttons, string, pipe cleaners, game pieces from an incomplete game, beads from a broken necklace, playing cards from an old deck, postcards, tissue paper from a specialty store (I couldn't bring myself to throw it away), sand paper, and metal washers.
Here are some samples of what I made with the treasures I found:
Card made with 2 skewers (cut down) and twine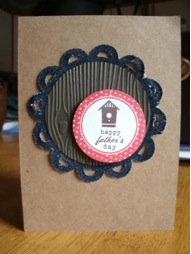 Card made with a scrap of denim
Looking back at the month I was on my spending diet, I realized two things:
1. If there is ever a Project Runway for paper crafting and they have to make something from basically nothing, I can win that challenge.
2. My creativity doesn't come from what I buy but what is inside of me.
I can't say I will be throwing away all of my supplies after this, but it is nice to know that I can push myself creatively. As a side note, the money I saved from my spending diet was invested in new die cutting plates.
~*~*~*~*~*~*~*~*~*~*~*~*~*~*~*~*~*~*~*~*~*~*~*~*~*~*~*~*~*~*~*~*~*~*
Debbie Ward 
has been paper crafting for many many many years. She loves to create cards, scrapbook pages and altered items. Debbie designs for a local scrapbook store, Hannah's in Antioch Illinois USA. www.LuckyGirlPaperArts.com
~*~*~*~*~*~*~*~*~*~*~*~*~*~*~*~*~*~*~*~*~*~*~*~*~*~*~*~*~*~*~*~*~*~*
.

.