~ * ~
This article is written by Shari Welch
I have been wanting to try some of the new line of mixed media products from DecoArt® called media.
I decided it was time to bring out the canvas to try out a few of these products. I am using a  black regular mister, a shimmer mister in turquoise, and a crackle paste. I pulled out a bee hive stencil to use with the crackle paste.  I added additional color using distress inks by Tim Holtz. I finished by adding some butterfly and bee ephemera.
Tip: When using ink sprays make sure you clean them out after each use. I have an extra spray bottle filled with diluted DecoArt® brush and stencil cleaner that I attach the sprayer to. Spray onto a paper towel until no more ink is visible.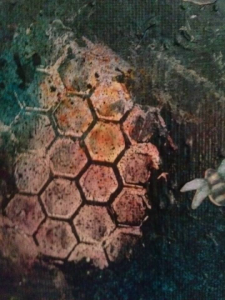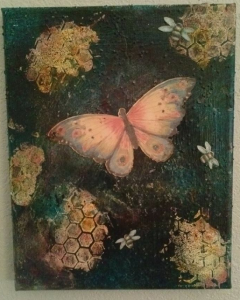 ~*~*~*~*~*~*~*~*~*~*~*~*~*~*~*~*~*~*~*~*~*~*~*~*~
Shari Welch Artist Profile: I have been creating art for as long as I can remember. I studied graphic design in Portland,Oregon before moving to Denton, Texas and putting all my focus on mixed media art. In addition to being an article writer for mixed media art, I am on the Creative Paperclay Design team, The Robin's Nest Design team, and a blogger for DecoArt. I strongly believe in giving back. I volunteer at Scrap Denton Creative Reuse Center where I teach workshops, art camps, and perform art demos. I am very passionate about mixed media art and helping others discover their creativity.
Follow My Altered Life's blog page
My Altered Life's Pinterest addiction
~*~*~*~*~*~*~*~*~*~*~*~*~*~*~*~*~*~*~*~*~*~*~*~*~
.

.