~*~
This article is written by Laura Shelton
Hello all! It is wonderful to be back here writing articles for Mixed Media Arts again! Hope you have been being super creative, and I really hope that this new articles gives you some new inspiration to make a lot more neat things! Today I am going to talk about embellishments. We all love them, buy them, and even stockpile them. At least I was, and spending way more money than I wanted on them!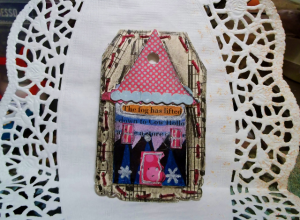 Embellishments can run into quite a bit of money, at least mine did, until I made a decision – I decided that any embellishments I wanted, I was going to make myself…no small undertaking, and needless to say, my embellishments fell off a bit, lol! That was, until I just made up my mind, and really got serious about it… Now I would rather have my own, handmade embellishments than anyone elses!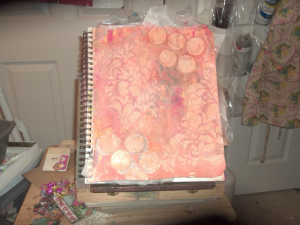 The first embellishments were a bit primitive as you can guess, but as I went I picked my battles, and then things started coming together. Above is an extra large journal page using modeling paste for the lighter sections of the piece. Below you will see an album that I made, where I utilized what I call a "bead tail" coming off of the back of the album, and attached with a handmade bead I made recently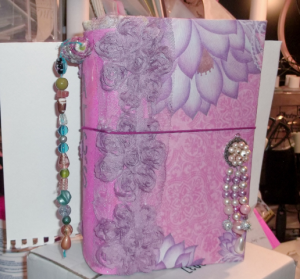 Toward the front, you can see that the closure is made of a vintage bead earring attached to a pendant jewelry finding…on the other side of the album, for the second part of the closure, I have another handmade bead mounted, and it is all held together with a reddish/purple leather cord. The closure alone really dressed up the album a lot!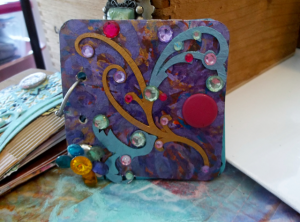 Other embellishments I have made are more suited for your art journal. There are many, many times that I will use an ATC (Artist Trading Card) embellishment for an embellishment to dress up an art journal page or maybe a mixed median art piece I am working on. These are some of my really old ATC examples, and they have been used at some time for an embellishment.
There are so many things you can make from paper and paint.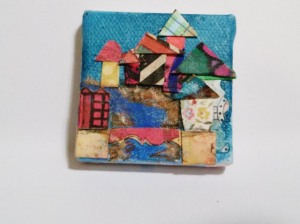 What I also enjoy is making embellishments out of beads and old jewelry findings! I have a ton of old beads and fittings from all of the broken necklaces, bracelets and earrings down through the years. I am so glad that I held onto all of them because they are perfect for making your own unique embellishments! Some that I make regularly are what I call my "bead tails".
These are basically just strings of glass beads, faux pearls, and other stones that I thread onto a heavy string, and then place a charm at the bottom of the string. These end up being the decorative touch that I add at the back spine of my prayer and scripture books that I make, as well as any other type of book, album or anything that is made that way.
A perfect example is the bead tail at the back of above album. These bead tails seem to add so much to a project! I wouldn't know how to finish out the albums without adding them! Seriously though-embellishments can make or break a project, at least in my mind. Even if you just string a few beads together and maybe add a little fancier clasp to your project, you will be amazed at the difference just a little addition can make!
This is Hester, the Court Jester –  she is just one of several art pieces I have made. I can write about them next time!
Laura Shelton
~ * ~