~ * ~
This article is written by  Anjuli Johnson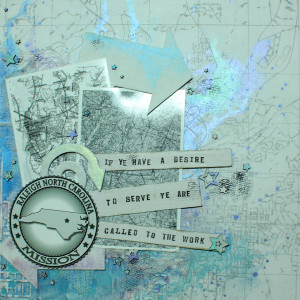 I am such a map fanatic. I can't explain why, there's just something about them that sparks my interest. It could be any type of map, too; historical, topographical, maritime charts, star charts, it really doesn't matter. I'm hooked. So, when I was asked recently to create a collage for a missionary who had been serving in Eastern Carolina for the past 18 months, I knew I needed some maps to showcase the cities where she had been assigned to serve. I had to find maps of three cities in order to complete the piece that was forming in my head. Luckily, finding maps to use is pretty easy.
There are multiple places you can find maps online. There are several Etsy shops that sell different sized prints of various cities in different formats and colors. This might be a good idea if you want something really big, but for the purposes of collage work, I needed something free that I could print off myself. Google searches are always a good idea, but some of the best places I have found maps, both for this project and ones I've done in the past, are libraries. Most local or state libraries have digital collections of maps that are provided free to the public and can be downloaded or printed. I have found so many maps of the same city from different time periods that I could stay busy looking at them for years- it's fascinating to see so many in one place!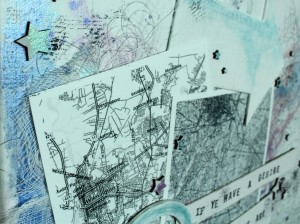 Since I was focusing on Eastern Carolina for this piece, the maps I used were from UNC Libraries map collection.
Love it! Once I found the maps I needed, I downloaded them and printed them on 4*6 photo paper. The background, however, I printed 18*24 on a large format printer and used it to cover the entire 12*12 canvas. I made sure to spray each one with Krylon acrylic coating to make sure the ink wouldn't run as I worked with the paper.
So there you have it! Is anyone out there as obsessed with maps as I am? I'd love to see what projects you're working on!
~*~*~*~*~*~*~*~*~*~*~*~*~*~*~*~*~*~*~*~*~*~*~*~*~
Anjuli Johnson is a Mixed Media Artist from Raleigh, NC.  She began her art career as a scrapbooker, and it's been an evolutionary process ever since.  She loves all things mixed media- paper, paint, pens, wire, gears, clay… the list goes on and on.  She is constantly trying to push through her fears to discover and develop her talents, meet new people, and learn from those around her.  To see more of Anjuli's art and techniques, check out her website at www.thefarpavilion.com  and like her Facebook page TheFarPavilion   Follow her on Instagram and Twitter as well.
~*~*~*~*~*~*~*~*~*~*~*~*~*~*~*~*~*~*~*~*~*~*~*~*~
.

.