This article is written by Cecilia Sanchez
I had many things to tell, but are all negative thoughts and makes me sad. I decided to hide those negative thoughts and only save two words of optimism. "Truth" and "Time"is my latest art journal page.
Materials:
Gesso
Color wash
Waterproof ZIG writer
Stencils
Acrylic paint
Distress ink
Metalic Zig writer
White uniball Signo
Masking tape
Stickers of letters
Wooden hearts
Art Journal Instructional Video
~*~*~*~*~*~*~*~*~*~*~*~*~*~*~*~*~*~*~*~*~*~*~*~*~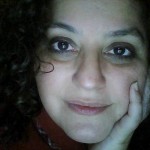 My name is Cecilia Sanchez and I live in Málaga, Spain. I am married and we have three gorgeous sons: Javi (9), Antonio (6) and Jorge (6). They inspire me every day with their crazy ideas.
Since my childhood I liked photography, drawing, collage and make photo albums with cuts and travel souvenirs. I also love crafts in general. In 2006, a few months after birth of my twins, I discovered scrapbooking, digital first and then the traditional. I love to do 30X30 pages, cards and mini albums, and for over a year I am fascinated with the Art Journal and Mixed Media.
I am inspired by everyday things, feelings … The art journal is a real diary for me, because sometimes I need to express my feelings with colors and shapes
I love learning and discovering new techniques and materials. For a couple of years I began to take courses online and in person to learn new techniques and to incorporate them into my work. Since September 2010, I am part of the design team of Sweet Card Club, a monthly challenge blog cards.
From May 2011 also became part of the European team KURETAKE design, manufacturers of markers and pens Zig Memory System.
Since October 2011 I organize workshops Scrapbooking on "My Pink Scrapbook" unique physical scrapbooking store in Malaga.
~*~*~*~*~*~*~*~*~*~*~*~*~*~*~*~*~*~*~*~*~*~*~*~*~
.

.