~ * ~
This article was written by Martice Smith II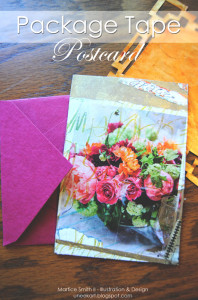 Learn a quick and simple way to create image transfers made from packing tape. Layer bold graphics and found imagery, combined with stylized handwriting, to create a dynamic piece of correspondence. In the end, you'll have a stunning postcard- worthy of being framed!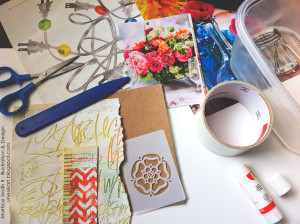 Gather supplies of your choice.

You'll also need:
a bowl of water
bone folder
scissors
magazine pages and paper ephemera (Grab up some of your favorite, textured papers, too!)
4×6 inch cardstock paper (elements will be layered onto this)
How to Make a Packing Tape Postcard

Prepare the image transfer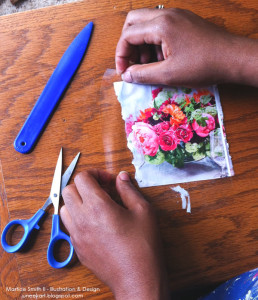 1. Cut strips of packing tape to the size of your image.
Carefully, lay the tape across the magazine image, starting at one end and slowly working your way across. Use manageable strips of tape for this step.
TIP: Images (photos or text) with white or light-colored backgrounds will show up transparent in the final tape transfer. This is a great way to add interesting dimension by layering multiple graphics, text, or paper.
2. Burnish with a bone folder.
From the center out, use the bone folder to remove any bubbles or creases. You do not need to apply heavy pressure when burnishing. Simply rub the tool across one way and repeat going another direction.
TIP: Lay the tape down on a clean plastic, wooden, or any non-porous surface to prevent tape from picking up fibers and dust particles.
(If there are bubbles left unburnished, they will appear as a clear spot on the image.) You may or may not want this effect- sometimes it can leave an interesting, distressed effect to your transfer. You might like it after all!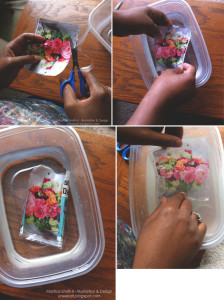 3. Trim around your image and place into bowl of water.
4. Rub away the paper backing with your thumbs.
The paper will start to roll up. This indicates that you can start rubbing the paper off.
TIP: For a clean, crisp image, make sure you do not scratch the surface of the tape while rubbing off the paper. If you want an old, worn-out look, gently scratch the tape's surface with your fingernail. If you want wrinkles, take the entire piece and ball it up, in your hand; unfold and smooth out.
If you're heavy-handed like me, you will appreciate this technique because this it allows you to rub quite vigorously without tearing the tape.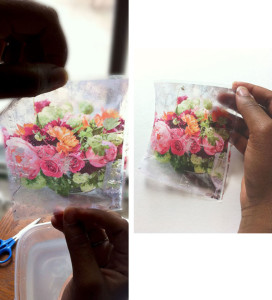 5. Remove the paper and let dry on non-porous surface. 
As the tape dries, it will become sticky again. After the tape dries, paper fibers may reappear. If so, re-moisten the paper and gently, rub them off.
These pictures show how a tape transfer looks when held near a window. Take a close look at the expressive textures! Next, I show how the transfer looks when placed on top of a white background. (Did you notice how some details from the magazine image reappears when placed on a white background?)
6. Discard paper fibers from bowl.
Flush paper pulp down the toilet- not the sink!
Of course, you can also save this paper pulp to create your own handmade paper.
Now we are ready to create our Package Tape Postcard!

Here is the approach I took to create this postcard:
This postcard looks elegant and modern but with a slight, urban twist. I gathered some of my paper scraps from previous projects to combine with my image transfer.
To reinforce the look of the 'handmade', I decided to tear the paper with my hands. This creates the deckled edges.
Pushing this idea forward, I also decided to add a twist by incorporating my stylized handwriting. (I simply used the end of a paintbrush to scratch into wet, acrylic paint, on paper that had a layer of paint already on it.) Look closely to see the subtle shift in colors!
Continue adding collage elements but keep in mind that 'less is more'. You don't want to create an overwhelming design on your postcard. Layering is key; build up layers to add drama.
TIP: If your packing tape isn't sticking, use a glue stick, decoupage medium, or add more tape on top to keep it in place.
Think about overall composition. My focal image is the bouquet of flowers. Everything else was secondary, or in other words, complementary to that image.
The image transfer (of the flowers) was placed on top of the stylized, handwriting layer. For exciting pops of color, I used fluorescent orange paint!
Next, a small piece of diamond patterned washi tape was added.
Finally, gold leaf was painted on to create a more elegant look.
For the reverse side, I cut out and glued some scrapbook papers onto the brown kraft paper, leaving a 1/4 inch border on all sides.
As you can see, I repeated the diagonal lines from the front side to create a divider for the text and address areas.
Here's another postcard I created with this same image transfer technique.
I chose to go with a bold and, somewhat, abstract look. I found a beautiful image of decorative chinaware in a home decor magazine. The geometric patterns combined with organic shapes are interesting and has great sense of energy.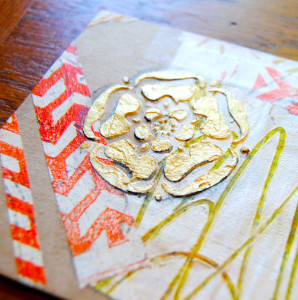 This packing tape postcard features:
my hand-carved, chevron stamp
Modeling paste
"Grace" stencil from Artistcellar's new Pocket Stencils, "Mini Virtues" set
Spray or brush on a varnish to seal and protect the surface. Write your message on the back, apply a postage stamp and pop it in the mail!
~*~*~*~*~*~*~*~*~*~*~*~*~*~*~*~*~*~*~*~*~*~*~*~*~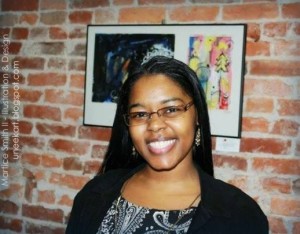 Martice Smith II is creative director of Martice Smith II – Illustration & Design Studio, based in Kansas City, Missouri and owner of Uneek Art Boutique. She established herself as a freelance Illustrator and graphic designer after receiving her Bachelor of Arts Degree. Her stunning illustrations reveals her love for fashion, typography and wildlife- using a combination of analog and digital techniques.
Martice also contributes as an article writer for the Creating Mixed Media Art website.
You can see more of her work via her Facebook page or her blog. She invites you to join her monthly newsletter, Uneek Art Letter, for art biz tips, advice and free digital goodies!
~*~*~*~*~*~*~*~*~*~*~*~*~*~*~*~*~*~*~*~*~*~*~*~*~
.

.