.
When I first started adding jewellery elements into my mixed media art, I really felt like I had started on a whole new journey; new terminology, new tools, new shiny metal things and wonderfully, wonderfully coloured beads, of all shapes and sizes.  Once I overcame the excitement and looked at what I really needed, it came down to three basic tools.
Flat nosed pliers
Flat nose pliers are needed for holding the metal bits while manipulating them with the pointy nosed pliers. The flat nose have a good surface area to firmly hold jump rings and other fiddly bits.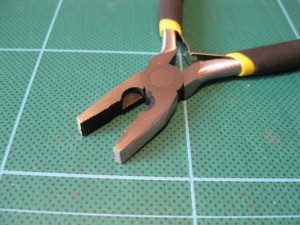 Pointy nosed pliers
The pointy nosed pliers are used for bending and twisting the metal bits while they are being held by the flat nosed pliers. The pointy noses makes it easier to hold the small area of the metal element and move or bend it. The rounded end is also good for making loops in wire and pins.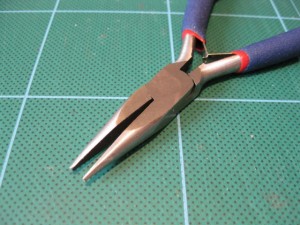 Wire cutters
For a while I refused to buy wire cutters as I thought the cutting section on the flat nosed pliers would be sufficient. I soon discovers that the wire cutters on the pliers aren't as sharp as proper wire cutters and tended to squash the wire, rather than cut cleanly. Using wire cutters makes cutting wire and chain simpler and gives a nicer finish.
~*~*~*~*~*~*~*~*~*~*~*~*~*~*~*~*~*~*~*~*~*~*~*~*~*~*~*~*~*~*~
Using the two types of pliers together makes opening and attaching jump rings an easy process. In our next article we will look at the basic jewellery skills we need to add jewellery elements to our mixed media art.
*~*~*~*~*~*~*~*~*~*~*~*~*~*~*~*~*~*~*~*~*~*~*~*~*~*~*~*~*~*~
Hope you are enjoying our series on adding jewellery elements to our mixed media art.
Happy creating!

.