This article is written by Jennifer Truett
My name is Jennifer Truett (Jennifer Shorter on Facebook) I live in Seaside, California.  I am married, with one son who is 7 years old, two baby dogs and one big dog, a Chihuahua a Chiweenie and a  very sweet Pit Bull.  I love the outdoors but can enjoy staying inside with a good book just as much.  I am new to Mixed Media I just started this journey in April of this year.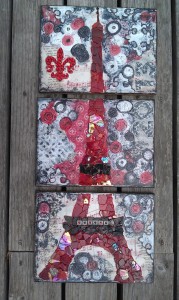 I created this piece for my Niece Emilee who just graduated High School.
I started by Mod Podging scrapbook paper to canvas.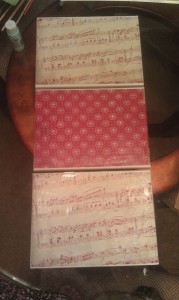 I added wall art decal of the Eiffel Tower.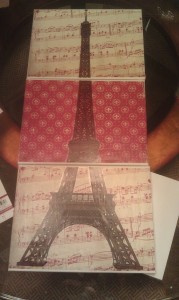 I layered it with more paper, painted a wood Fleur De Lis with some gems to add some bling and covered the tower with stained glass pieces.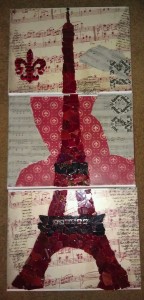 With acrylic paint, gesso, stencils, ink, felt numbers, mod podge, and my imagination I created this Eiffel Tower piece.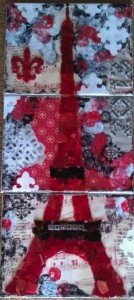 This was a fun piece to create and for being my Fourth Mixed Media piece I was pleasantly surprised or should I say super excited when I received a message from Michelle Brown about it from a picture I posted on the Creating Mixed Media Facebook page. I have already learned so much from reading the different posts and from Michelle's book, "Creating Layers in Mixed Media Art."  I want to thank Michelle and all of you for your inspiration and beautiful art as I continue my Mixed Media Art journey.
Thank YOU, Jennifer!
.

.