10 Sure-Fire Techniques to Boost your Mixed Media Art Skills
Mixed Media Arts is offering TEN Mixed Media Art Technique sheets, available for immediate download. That's a total of 50 pages!!
Each of these techniques, skills and projects contain detailed, easy to read instructions, each accompanied with step-by-step, colour photos.
Create a beautiful purple painted background
Brush up on your credit-card painting technique
Try antiquing in your next project
Learn the basics of bookmaking with this sticky note book
Use a range of different shaped artwork to expand your creativity
Make your own stencils
Add some edging and sponging to your collages
Create your own simple bound book
Create a paper mache shrine to show off your embellishments
Use tissue paper images in your mixed media collages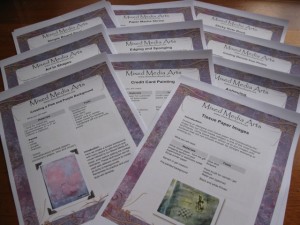 Mixed Media Painting Techniques
Purple Painted Background
Here we create a simple background with many layers to add texture and visual interest to our Mixed Media Art piece, even before adding the collage elements. These techniques can be used with different colours to create all sorts of backgrounds.
Credit Card Painting
The credit card painting technique is great for getting colour onto lots of paper fairly quickly, which makes it an ideal technique for large swaps or large journal pages. Experiment with different colour combinations and you will have endless, unique background papers, ready for journalling or collage.
Mixed Media Stencils
Creating your own stencils is an easy way to add shapes and patterns across your artwork, and gives you control over your creating process and originality. If drawing a picture to make your own stencil is a little scary, then here is a method that removes the need to do any drawing.

$19.97

Available for immediate download!
Mixed Media Projects
Ephemera Paper Mache Shrine
For mixed media art, Shrines can be used to bring some of the ephemera out of the boxes and drawers and help us tell a story through our artwork. By making your own from chipboard gives you the ability to make it any size (or shape).
Simple Bound Book
Making your own books adds dimension to your mixed media art techniques. You can choose your own size, colours and types of papers.  This method of binding a book is simple and can be easily adapted for many uses.
Sticky Note Book
This little book makes a great gift and teaches the basic bookmaking skills, so once you have mastered this size, you can go on to make any size you like.
Art in Shapes
By doing something as simple as changing the size of the piece we are creating, our minds are forced to rethink the way we would usually arrange elements in our layout. Here we look at a range of "Standard" shapes and sizes that commonly appear in swaps and challenges, across the Internet and with local crafting groups. The smaller sizes are ideal for making in multiples to swap and display en mass. The larger shapes can be displayed on their own or turned into cards or books.

 $19.97

Available for immediate download!
Mixed Media Skills
Antiquing
Antiquing is the process of taking new papers and making them look aged, adding texture and a depth of colour to our mixed media projects. There are many ways to achieve this effect and using different mediums and papers will give different shades and colours. Here we introduce antiquing using coffee and tea. We will also discuss different techniques you can use with commercial products to create great effects.
Edging & Sponging
This technique is focusing on edging and sponging – two techniques that are used in many applications, often without a lot of conscious thought but it is a technique that can go unnoticed and often forgotten by beginners.  It is a subtle effect, yet really alters the way a finished piece looks.
Tissue Paper Images
Printing or stamping onto tissue paper and adding the image into our collages allows us to put images onto surfaces that are not smooth enough for straight stamping or printing on. Here we review this technique with a method that is simple and repeatable.

$19.97

Available for immediate download!

Creativity at your fingertips for only $19.97
~*~*~*~*~*~*~*~* ~*~*~*~*~*~*~*~* ~*~*~*~*~*~*~*~* ~*~*~*~*~*~*~*~*