Whenever I need some inspiration or just general arty cheering up – I head over to my reliable favorite videos. It's not just the art journaling of these three mixed media artists that cheers me up; I love their openness and honesty of their creative process.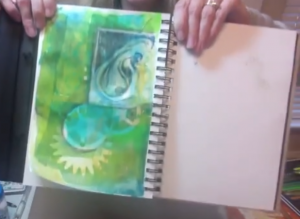 There is also something about actually watching the process of the art journalling unfold! Seeing how the paint moves around the page – watching as the layers are built up. It really does bring art journalling to life and makes my fingers itch to get messy and get creating!
Pam Carriker and her "Hear" page
*
In the bluey-green art journal layout, Pam uses Gelli plate printed deli paper to build up the collage layers and her hand carved prints. Pam then adds detail  with water resistance Faber-Castell artist crayons. The colours are then added with the Derwent Inktense blocks – this video was the inspiration for me buying my own set of Intense blocks!
You can see more of Pam's work per at her blog – Living Art at the Speed of Life
~ * ~ * ~ * ~ * ~ * ~ * ~ * ~ * ~ * ~ * ~ * ~ * ~ * ~ * ~
Traci Bautista
*
I love Traci's use of bright colors and stencils to create the base of this vibrant art journal page. This background is then collaged over to create the foundation for quick sketching with a charcoal pencil and then highlighted with acrylic paints and various markers – all of the ingredient for a fabulous mixed media art journal page!
You can see more of Traci's work per at her blog – Kollaj
~ * ~ * ~ * ~ * ~ * ~ * ~ * ~ * ~ * ~ * ~ * ~ * ~ * ~ * ~
Donna Downey with "Imperfection is a Form of Freedom"
*
Donna never shows fear in the face of colour – here she uses orange and turquoise to create this fun art journal layout. Again, it's great to see the layers being built up with all of the different coloured paints, as there are spots of colors that aren't as noticeable when looking at the finished picture, but once I've seen them added during the process, I notice them. donna finished this layout off with charcoal pencil lines and some stencilling.
You can see Donna's weekly videos over here at Inspirational Wednesday
.

.