~ * ~
This article is written by Melanie Statnick
Intuitive painting is painting by how you feel. The process is free style and uses your creative instincts to guide you through your painting with minimal instructions. The intuitive approach to painting allows for what I call happy mistakes. There is room for error that you can turn into a whimsy painting with effortless ease.  The step by Step instruction will help you with the bulk of the workshop, but there are times when you have to go with your gut.  In this workshop you will build layers of paint using different tools to create different shapes in your background. Using the shapes in the layered paint you'll begin to see a whimsy Character. I'll teach you how to bring it out and then layer and paint again, to create a fun, whimsy one of kind piece of art.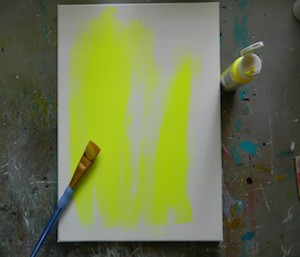 Start with a light paint colors first and apply a generous amount of paint directly to your 11x 14 canvas. Using your flat brush create bottom to top motion to spread the paint to your vertical surface. Use the same motion when you apply your other lighter colored paints like yellow, and pink. Rinse brush between colors and dry using your heat tool between layers. After you have applied at least three different colors of paint to your canvas turn your canvas horizontal. Apply a pea size amount of Teal directly to your canvas. Using your Brayer roller, roll over the paint in a side to side motion. The paint will spread in an uneven and grungy look. This will create a different shape than your flat brush.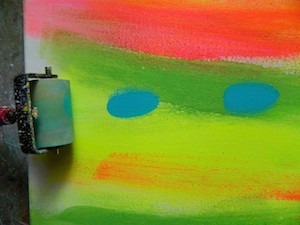 Keep your canvas in the horizontal position. Apply neon blue directly onto the canvas, using the large edge of the squeegee pull the paint in a bottom to top of canvas motion. Repeat this step with the dark yellow. Don't forget to dry in between layers.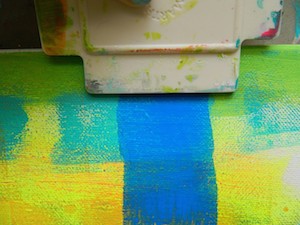 Your canvas should look something like this. You have created a painted layered background. Place canvas in vertical posing and using your flat brush and some of your lighter paint colors apply them to the spots on your canvas that are unpainted. Dry.
The next step is finding your character by intuitively looking for the shapes your paint strokes created. Wet your water soluble graphite pencil in 8B (very dark) and find your first shape by outlining it with the wet pencil. Take your time here to relax and become familiar with your piece. The shapes will start to pop out at you. Here I have found a nose.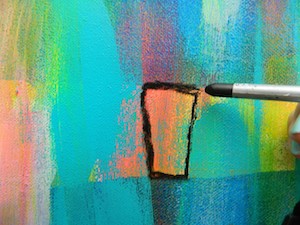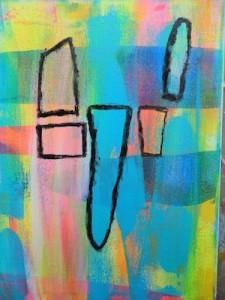 I have found a nose, eyes and ears. I do not see the shape of the head or body yet. This may or may not appear to you. If this does not appear to you, you'll have to free hand draw the head and body shape. This sounds intimidating but it's not. If you feel more comfortable use a 2HB pencil to lightly free hand. Draw in the head and or body shape. There is no need to erase these lines the graphite pencil when wet will go over this line. I will draw in a tail, whiskers, and collar on my character. These are details that you should add in while you're creating your head and body shape should you not already see them.  This step allows for creative freedom in owning your piece.  Be sure to dry the lines and shapes before the next step. This graphite will run and move around should you re wet it on your surface. Beware of this is the next step.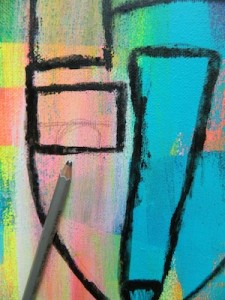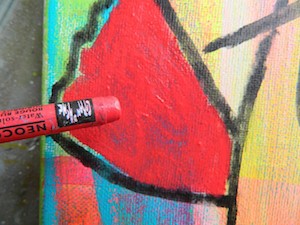 The character we have created will most likely not have traditional coloring should you be creating an animal. The next step is to paint in some of the areas using your Caran d'ache water soluble pastels.  This step is also intuitive as you go along. Here I have chosen to fill in the tail, body and ears. I have painted in only parts of the nose and face.  Wet the tip of the pastel like you did with the graphite pencil, and apply pastel directly to canvas in desired shapes.  If you are unfamiliar of what the color will look like once wet, use a scrap paper to test before you apply to areas of your canvas. Most are true to color.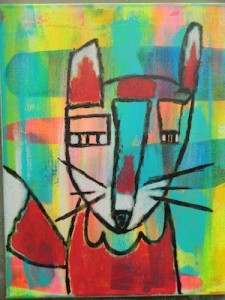 Once you have completed your animal/character the next step is to bring the painting together. Using a choice stencil we will randomly place the design around the canvas. Apply white paint using a makeup wedge or stencil brush. Pour a pea size amount of paint onto your palette. Place the stencil in the desired area of your canvas background, carefully avoiding your character. Use your hand to hold stencil still while you apply the paint over the stencil. Repeat this step using other desired stencils until you reach the look you like. This is another creative and intuitive process.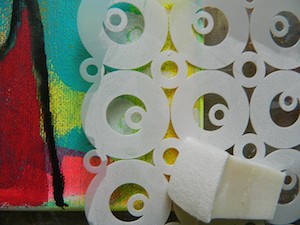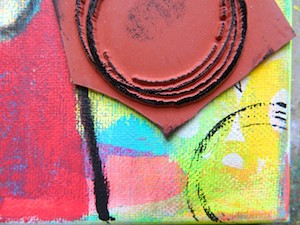 Your piece should look similar in process like the picture shown above. Now we'll apply the cling mount/rubber stamps to the piece. This is similar in process to the way we did the stenciling. The canvas has a natural bow in the center. When you place your stamp inked in the desired spot you will need to place your free hand under the canvas were you about to stamp for support. This will ensure a more full images of the complete stamp. I prefer a more lose grunge look of a half stamp or just using the corner of your stamp. If this is our preference also, then proceed stamping around your character/animal.
This is your final piece. I encourage painting the sides of your canvas. This makes the appearance on the wall more pleasant. The black paint is suggested.
~*~*~*~*~*~*~*~*~*~*~*~*~*~*~*~*~*~*~*~*~*~*~*~*~
Published Writer/Artist Melanie Statnick was raised in Ontario Canada. For over 12 years Melanie has called eastern North Carolina her home. Melanie continues as a self-taught artist and teacher of visual arts and an article writer for Mixed Media Art co Melanie's work can be found extensively throughout North Carolina with private collections abroad.
Melanie's successes include written publication of articles in Interactive Artists Magazine, Publication in Somerset Studio magazine, Altered Arts magazine, and 2013 edition of Wilson Woman Summer issue.  Melanie's awards are 1st place in viewer's choice in Washington NC and 2nd place magazine cover choice with Altered Arts magazine. In 2015 you can find her work in Dawn DeVries Sokol book "A World of Artists Journal Pages".
You can follow Statnick on her website at: www.melaniestatnickart.com
~*~*~*~*~*~*~*~*~*~*~*~*~*~*~*~*~*~*~*~*~*~*~*~*~ [center]
.

.