This article is written by Cecilia Sanchez Peralta
How many things can be used to make a bookmark?
While I'm working on something with mixed media techniques, I am not aware of all the material I use.
I use a little of everything on the fly.
When I finished these bookmarks, I've put together all the material.
Here is all together:
Supplies:
Gesso,  gel medium, acrylic painting, watercolors, markers, inks, acrylic stamps, glimmer mist, embossing paint, markers, glitter, pastel, stencil, cardboard, brushes, cutters, etc ..
And here are my bookmarks for Valentine's Day. Full of love.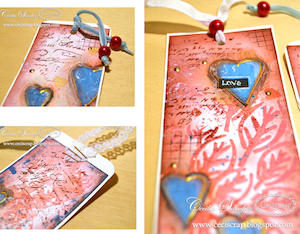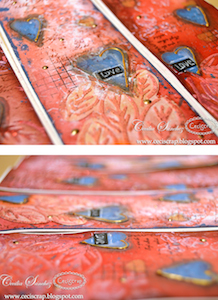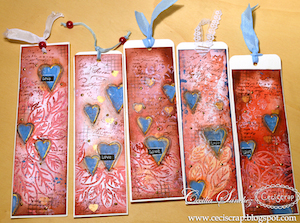 ~*~*~*~*~*~*~*~*~*~*~*~*~*~*~*~*~*~*~*~*~*~*~*~*
My name is Cecilia Sanchez (CeciScrap) and I live in Málaga, Spain.
I am married and we have three gorgeous sons. They inspire me every day with their crazy ideas.
Since my childhood I liked the photography, drawing, collage and make photo albums with cuts and travel souvenirs. I also love crafts in general. In 2006, a few months after birth my twins, I discovered scrapbooking, digital first and then the traditional. I love to do 30X30 pages, cards and mini albums, and for a while now I am fascinated with the Art Journal and Mixed Media, and I do not imagine scrapbooking without getting my hands dirty.
I am inspired by everyday things, feelings … The art journal is a real diary for me, because sometimes I need to express feelings with colors and shapes.
I love learning and discovering new techniques and materials.
I am part of the European design team of KURETAKE, and I am also designer for a monthly blog challenge Sweet Card Club. I contribute with some blogs and digital magazines and organized Scrapbooking workshops in Malaga.
You can see more of me at:
~*~*~*~*~*~*~*~*~*~*~*~*~*~*~*~*~*~*~*~*~*~*~*~*
.

.