It's not very often that we see something new in crafting that leaves us completely impressed but that was how Michelle Brown felt when she came across the Linnie Blooms booth at CHA Winter Show 2015. The booth was filled with lovely stitched canvas pieces. Here was a range of alterable, mixed media items, made from canvas and recycled ephemera, with stitching and we didn't have to do any of the sewing! We only had to decorate them!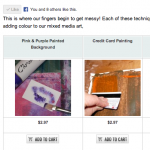 Here we review our favorite mixed media techniques and put them together to create postcards that we can share with our friends and family. Regardless of your current skill level or preferred style, you will come away inspired to get creating for the Holiday season, as well as "meeting" member of our Mixed Media community.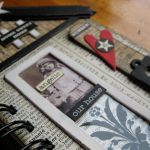 The term "mixed media art" is a broad definition that covers many arts and crafts, including collage, assemblage (both 2D and 3D), altered objects, including books and boxes, handmade greeting cards, artist trading cards (ATCs) and tags, art journalling and book making.