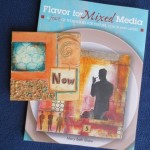 Mary Beth Shaw has put together "Flavor for Mixed Media – a feast of techniques for texture, colour and layers" with the mixed media artist who loves to get stuck in and set her hands dirty in mind. Published by North Light Books in 2011, Mary Beth brings her talents and those of 15 of her artist friends together for this feast of mixed media projects. Michelle has fun reviewing this book and making one of the projects.
Melanie Statnick has had the Ranger Alcohol inks on hand since they were first introduced. Since then she have seen many different brands and ink tools to use with them. When she wanted to take advantage of what she already had invested in she started to create these colorful landscapes on Yupo.
Vicki Ross asks the question is mixed media a craft or a fine art? Regardless of your thoughts, you will find links of many mixed media techniques back through art history. Vicki shares some examples that will get us thinking.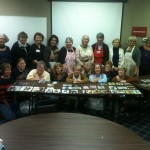 . This article is written by Jan Murphy of Wild at Heart Studios In the Fall of 2012, Wild at Heart Studios, in the lovely town of Friday Harbor, Washington, held a workshop entitled "Chiarscurro Circus". It was hosted by two well-known mixed-media artists, Lynne Perrella and Anne Bagby, for four days of amazing creativity and fun. Twenty four [...]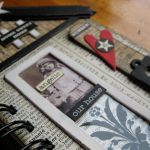 The term "mixed media art" is a broad definition that covers many arts and crafts, including collage, assemblage (both 2D and 3D), altered objects, including books and boxes, handmade greeting cards, artist trading cards (ATCs) and tags, art journalling and book making.