Debbie Davis made this background by randomly scraping pink, yellow and blue/green paints that had been loosely mixed with some white fluid acrylic paint onto the ledger journal page using an old store card. She also printed, cut out and collaged the photo, along with two little beach cabanas cut out of scrapbook paper onto the page and she outlined the photo and cabanas with a Stabilo pencil and lightly went over the pencil with a wet brush and finally added some texts using a stabilo pencil.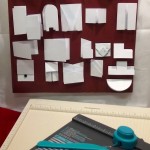 Ann Strecko Koeman is the ultimate multitasking mixed media artist, finding new ways to make a living as an artist and promoting her work through teaching and the internet, as well as a few other strings to her bow.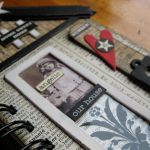 The term "mixed media art" is a broad definition that covers many arts and crafts, including collage, assemblage (both 2D and 3D), altered objects, including books and boxes, handmade greeting cards, artist trading cards (ATCs) and tags, art journalling and book making.