Are you one of those types of people who save everything…Just in case you may be able to use it one day? Kim Kelley is and today she has put some of it to good use, with this recycled corrugated cardboard wall hanging. She has used a variety of mixed media techniques to create this fun project.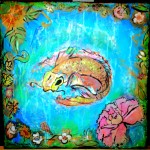 ~*~ Stacy Steinborn has taken her gloves off to create this vibrant mixed media painting with coffee filter flowers and water colour paints. This article is written by Stacy Steinborn from Flooded in Light As a mixed media artist it is to your benefit to release old habits and experiment with getting your hands dirty. […]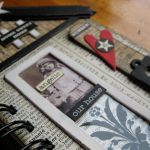 The term "mixed media art" is a broad definition that covers many arts and crafts, including collage, assemblage (both 2D and 3D), altered objects, including books and boxes, handmade greeting cards, artist trading cards (ATCs) and tags, art journalling and book making.