Tamara Dinius gathers her leftover scraps and other lovely ephemera to add texture, depth, contrast, and interest to an old manila folder to create useful mixed media art hang tags. These hang tags are perfect as enclosures in gifts or as tags for other items.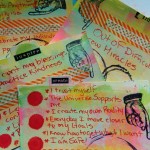 Find yourself spending WAY too much time online? When you work from home, it is a real trap that can sap time and your creative energy. Melanie Statnick encourages us to get off-line, leave Facebook, Twitter, Pinterest, Flicker and blogging alone, and get to making art with these meditation cards.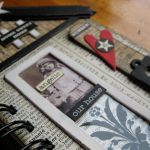 The term "mixed media art" is a broad definition that covers many arts and crafts, including collage, assemblage (both 2D and 3D), altered objects, including books and boxes, handmade greeting cards, artist trading cards (ATCs) and tags, art journalling and book making.