Sandra Parés is going to show you how to make a handmade candle holder with a magic light to illuminate our summer nights. We will use mixed media techniques.
One of the amazing things about the Craft and Hobby Industry show is the artwork that is on display, whichever way you turn! Every booth is covered with fantastic artwork, showing off both the manufacturers wonderful products and the designers amazing flair, creativity and individual style. The Ranger booth had the most wonderful gallery on display, showcasing 22 different designers and artists who all answered the question "How do you Distress?"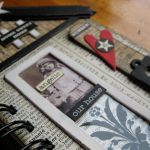 The term "mixed media art" is a broad definition that covers many arts and crafts, including collage, assemblage (both 2D and 3D), altered objects, including books and boxes, handmade greeting cards, artist trading cards (ATCs) and tags, art journalling and book making.